YOUNG, SCRAPPY AND HUNGRY
Rogers' youth and size no hurdle in promising basketball career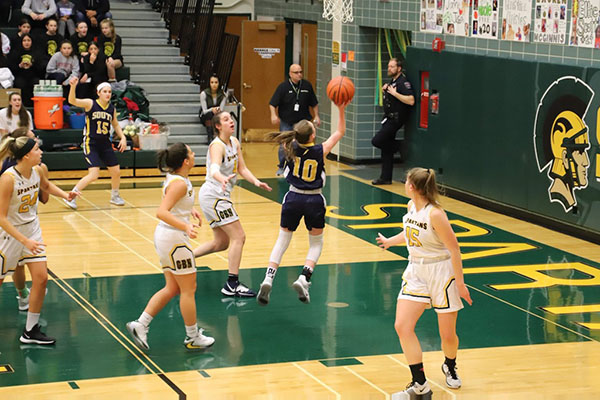 For sophomore Sidney Rogers, girls' basketball player, nothing is more important than the perfect shot. On the basketball court, Rogers works tirelessly on her jumpshot, using it as a powerful tool to improve her game. Off the court, painting and drawing have become calming activities for her, as well as another type of shot: photography.
The recent rollercoaster ride of events regarding the basketball season has left Rogers relieved but also anxious. After Illinois Governor J.B. Pritzker announced the postponement of the season, Rogers was initially upset. Even after the following statement from the IHSA saying basketball could move forward, she could not shake her nerves over the coming season.
"I still feel pretty nervous, as nothing is ever final but all I can do is hope there will be a season," Rogers said.
Scott Nemecek, girls' basketball head coach, explained how he was surprised by how well Rogers performed in her first year on the team, especially as a smaller freshman.    
"Instantly you can tell that she is probably one of the best players on the floor," Nemecek said. "It's remarkable because she's a freshman, [it's] very hard to be that good as a freshman. She's not very tall, she's not very big [but] to say she held her own would be an understatement."
What separates her from other players, Nemecek continued, is her ability to shoot three-pointers quickly, coupled with her efficiency on those shots. Rogers can step up to the half-court line and make five out of ten half-court shots, according to Nemecek. Rogers also possesses very good defensive skills and ball-handling skills, explained Nemecek.
"You know, you couldn't tell if she was right handed or left handed, she could go forwards and backwards," Nemecek said. "She knows how to change speeds."
Rogers started her basketball journey after seeing her older brother play the sport. She explained that many people have helped her along the way, including her father, who coached her Junior Titans team when she was in fifth grade.
"Having [my dad] as my coach and winning the end of season tournament is really fun because we got to share that memory together," Rogers said.
He has led her to become the player she is today, Rogers said. Senior Tabitha Tibbetts, a teammate of Rogers, explained how she is a leader on the court as well as a very selfless player who looks to create opportunities for her teammates.
"She's definitely a leader in action, less than in words, and she definitely changes the dynamic," Tibbetts said. "If she's in a great mood then the rest of the team is in a great mood."
Rogers also has a big heart and cares for her teammates off the court, Nemecek said. Rogers is drawn to relaxing art activities that balance her competitiveness on the court.
"She's a very sweet person, she cares about her teammates immensely and she's a very generous person to her teammates," Nemecek said. "She's got both ends of the spectrum covered very nicely."
Rogers explained how during high school, she hopes to win regionals during one of her years at South. As she looks to the future, Rogers also gave some advice for those who want to start basketball, but don't exactly know how.
"I would say, if you really want to play, you just gotta work on it, you gotta work on the main things like ball handling and shooting and get really good at those, and then you can't stop working," Rogers said. "You have to continue working and continue to get better because you can't be perfect at the sport, you just got to continue to improve on yourself and improve as a basketball player."