Strong team bonds anchor the success of boys' hockey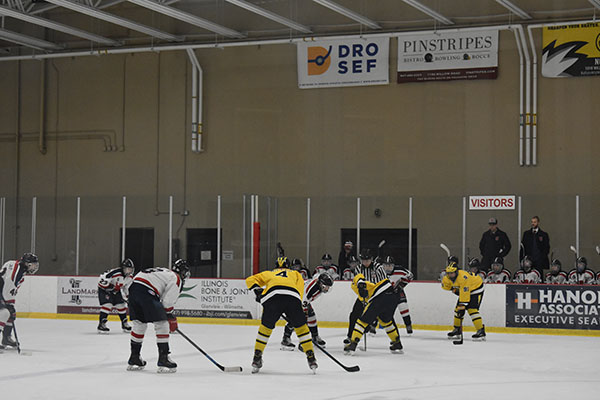 Thanks to strong team chemistry and a history of playing together, the varsity boys' hockey team has continued their program's history of success with a ranking of fifth in the state this season. Many players, such as senior Theo Papalas, attribute this success to a well-experienced team led by Head Coach Jim Philbin.
This season the team has 16 seniors that have played alongside each other for a long time, Papalas said. Yet, he has enjoyed having some new players on the team to show them how to follow in the seniors' footsteps for the following seasons to come.
"We have a lot of guys who have been playing together and it adds experience and chemistry to our team," Papalas said. "But we also have some new guys that have fit in really well with the team so it has been nice to be able to have them around too."
Philbin recognized that this team's time together has only made them more tight-knit and led to more success. He explained that the connection with being both teammates and friends has brought them victories.
"They have a great bond that they have developed and a closeness like no other group of seniors," Philbin said. "They're great teammates along with being great friends."
Philbin mentioned that he has been coaching most of the players since they were 9 or 10. Philbin, who is in his 29th year as a hockey coach for South, has been preparing these players for the varsity team as they've grown up.
"Watching the boys grow up and develop not only as hockey players, but also as young men has been very special and meaningful to me," Philbin said.   
The bond that the boys have established with Philbin throughout their careers is undeniable, Papalas said. Consequently, this was key in creating a unique factor in which the coach knows the players especially well and the players know the coach especially well, according to Papalas.
"I'm very close to [Philbin] and can talk to him about anything on and off the ice," Papalas said. "I know what to expect every day from him so nothing is a surprise. He's an amazing coach and I've been lucky to have him for so long."
One of the most notable accomplishments thus far in the season is the team's three game sweep against Loyola, according to Philbin. He explained this was the first time this has occurred in school history and was special for the players.
"It was a great feeling for the boys but also a fun moment for the school as well," Philbin said. "There is nothing quite like winning a rivalry game. But it just helps to prove that we can beat any given team on any given day."
South's main offensive weapons this year include the two top point leaders in the Scholastic Hockey League, seniors Nick Botvinnik and Daniel McKay, Philbin said, as they lead this team in the attack alongside Papalas. Philbin recognizes the strength in this core trio.
"Nick and Daniel are threats to score at all times," Philbin said. "I truly believe that the lineup of Theo, Nick and Daniel is one of the top lines in the entire state."
One of the differences separating hockey from other sports at South is that it is not directly associated with the school, Botvinnik said. With most teams, the same teachers that students see in their classrooms are coaches as well, but hockey stands apart. Though they wear the South colors, the coaches and the program exists outside of the school. Botvinnik felt as though their hard work should not be ignored, and he believes hockey should be viewed just as much a part of the school as any other program.
"I want hockey to be apart of the school because it gets annoying when people talk about our sport as a club when we put in just as much effort," Botvinnik said. "Some of the time it's just jokes, but I feel like it takes away some of the hard work we have put in to represent this school."
The main challenge that the team has faced this season is that their home rink is under construction, Philbin said. This forces them to have to play their home games at Mount Prospect Ice Arena and at the North Shore Ice Arena in Northbrook. Philbin said this has not changed their goals and determination for the season.
"It's something that has never happened before," said Philbin. "It was a little hard at the beginning of the year but we eventually got used to the situation. Our bottom line is that we need to win in all rinks, it should not matter whether it is home or away."
This team has been working hard all year towards one thing: a state championship. The lack of a home-ice arena will not take their eyes off that, according to Botvinnik. It is especially important to all of the seniors on the team to end their run at GBS as state champions, said both Papalas and Botvinnik.
"The season goes by quickly so make the most of what you got and enjoy your last season of competitive hockey," Botvinnik said.
Philbin thinks the team is set to make a run for the title, and he hopes that all of their hard work this season will be reflected through the result of the playoffs.
"We started preparing for playoffs right after tryouts," said Philbin. "We've been preparing all year long and are ready to go."