Girls' gymnastics defies gravity at conference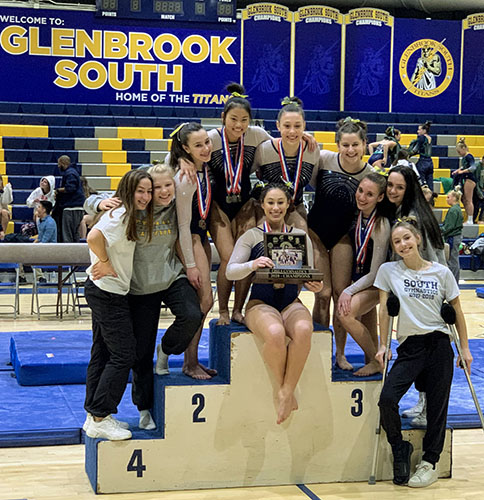 Every point counts as the girls gymnastics team goes face-to-face with their biggest rival, New Trier. The spectators clutch their seats as girls flip and twist through the air, gasping with every misstep and fall. Finally, what everyone is waiting for, the annual CSL Conference meet comes to an end with South on top, beating New Trier by 0.75 points.
The competition this season was fierce, Head Coach Stephen Gale explained, as the gymnastics team is preparing to compete against top-ranked schools such as New Trier, Carmel and Mundelein in the state meet. Every meet is crucial for the undefeated South team while trying to keep the top title in Illinois against strong competition, Gale explained.
"We've had close meets [and] we've had tough competition," Gale said. "We don't take anything for granted and it's been a good year so far."
Junior Elena Pauker said the team has a goal to win in all 20 routines at their meets. The meet regulations allow for five gymnasts per event: vault, bars, beam and floor. This equates to a total of 20 South routines per meet.
"We want to hit all of them and go 20-for-20 in 2020," Pauker said.
However, in order to achieve this goal, they need to work hard during their practices, according to senior co-captain Jenna Hartley. Practices include several parts, including conditioning and rehearsal of routines. Hartley explained that on days when the team has important meets, they make sure to keep the practices light in order to prevent injury before competition.
"I think the system that our coaches have implemented has been working for us so that when we do heavy conditioning, we build up our endurance and strength," Hartley said. "The days leading up to the meet, we have lighter practices so we don't get worn out before the meets."
Due to injury, both captains, Hartley and senior co-captain Emily Wyngarden, have not competed. However, they make sure to encourage their other teammates during meets and stay positive, according to Hartley. She tries different  methods of encouragement in order to keep the season successful.
"I think keeping a positive attitude and continuing to help the team in any way we can will [help] the team stay motivated," Hartley said. "Although I cannot help the team physically, as in competing, I want to try my best to keep motivating my teammates and be there for them the best I can."
The captains being injured Pauker believes has become motivational for the rest of the team and a reason to prove why they're still worthy of the state title. Although they lack the physical contributions of the captains, the team still works hard towards their goal of being on top at state, Pauker said.
"Because they are injured, everyone has become even more motivated," Pauker said. "We want to prove that we're still good and we're a team and can do well all together."
Gale explained that his primary goal for the team is to enjoy the season and hope everyone has fun. He said he wants the girls to feel accomplished with their improvement throughout the season.
"We want to have fun and have a good time," Gale said, "We want them to feel a personal sense of improvement and for them to enjoy themselves [when they compete]."