Dupor furthers baseball career with Serbian National Team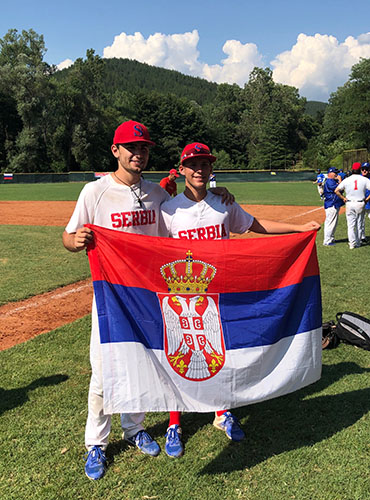 Most high school students spend their summers working or sitting around, wishing they could escape from the dull days in the Glenview heat. Others spend their vacation at practice as they prepare for their sports' season in the upcoming school year. For junior Sava Dupor, playing baseball was on his summer to-do list, but it was taken to a whole other level when he played internationally, competing on a national stage in Bulgaria.
Last spring while Dupor was pitching for South's baseball team, Coach George Grkinich from the Serbian National Baseball Team approached him, interested in the talent he could bring to their team.  Dupor said that the recruitment process was extensive, with Grkinich requesting videos of Dupor's pitching leading to a tryout.
"Sava is an unbelievably composed baseball player with amazing talent and potential to only get better," Grkinich said.
Going into the international games, Dupor was prepared to go up against many obstacles. He wasn't just playing teams from different countries, he was also competing against athletes with more experience on the national level. However, Dupor was unphased when it came to pitching throughout the high-stakes games.
"He was the youngest pitcher in the tournament, and you never would have known it because he was so under control," Grkinich stated.
The games in Bulgaria were unlike anything Dupor had experienced before. Dupor explained they were faster, louder, and more intense than the games he was used to, but he kept a cool head in every game, all the while taking in the new experiences he was fortunate enough to be involved in. The Serbian team played in Bulgaria against many other countries, where different cultures were displayed. While surrounded by these unfamiliar customs, Dupor's teammates helped him to move past language and cultural barriers.
"My teammates that were from Serbia helped us English [speaking] players get around the area and try everything Serbia has to offer," Dupor said.
The language wasn't the only difference, as Dupor played against older players who were in their 20s. Though this was a new challenge for him, it didn't stop him from playing to the best of his abilities. Playing against people from different cultures was an eye-opening experience that gave Dupor a different look at the game he knew like the back of his hand, according to Dupor.
"Every country has a different spin on the game that involved their culture, and it was really cool to see,"  Dupor said.
The biggest adjustment for Dupor was the speed of the game. Since the players are older, Dupor said they were all playing at a speed and level Dupor was not yet used to. However, this made the game more fun and exciting, according to Dupor.
"The game is so much faster," Dupor said. "It just made the game very enjoyable."
Grkinich emphasized Dupor's willingness to learn and get better as a player as his one of his biggest strengths.
"Not only is Sava is one of the youngest players on the national team, but he is also one of the brightest players for our future because he is always eager to learn more and improve his game,"
Grkinich said.
Dupor learned a lot from playing overseas by being immersed in unique cultures as well as learning new ways to play the game. With one summer with the team under his belt, Dupor looks to continue getting better to help the Serbian National Team once again this summer. Grkinich also has high hopes for the future of Dupor's baseball career, including Dupor's potential collegiate future.
"I have always said, wherever Sava ends up playing college baseball, that program is going to get a very skilled player and a terrific young man," Grkinich emphasized.