South alum dives into professional swimming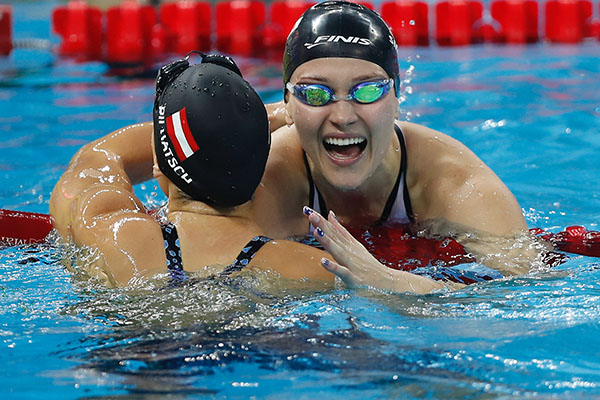 Stepping up on the starting block as a high school swimmer at South, Olivia Smoliga always dreamt of competing at the Olympic level. Now, as a 24 year old attending the University of Georgia, she  has exceeded this goal and competes professionally.
In December 2018, Smoliga traveled to China for the FINA World Swimming Championships, where she received eight gold medals in short course events. She describes her time in China as making just as profound an impact on her mindset as winning the medals had on her career.
"The overall experience was amazing, not only because I was on the podium several times, but it was just a really cool stepping stone for me mentally going forward with the other meets I have this year," Smoliga said.
Smoliga says she began swimming at a young age, but became more serious when she joined the Glenview Titan Aquatics Club (GTAC) team where she started to swim more competitively. After a few years at GTAC, she began to focus more directly on swimming.
"It got pretty serious for me when I started on [GTAC] in fifth grade," Smoliga said. "I had a breakout year when I was in eighth grade and I've been swimming ever since."
Smoliga made significant improvement when she joined South's swim team her freshman year, GTAC Coach Steve Iida says. Iida emphasizes her motivation to accomplish high goals, particularly with her interest to compete at the Olympics.
"Through high school, she was a different animal," Iida said. "She was determined. Her mindset was to be the best. When she was a junior in 2012, her goal at that point was to make the Olympic Team."
After graduating from GBS in 2013, Smoliga went on to swim for the University of Georgia. In 2016, she made the Olympic team in Rio De Janeiro, which she says was one of her major goals. She has continued to compete around the world as a professional and has potential to take her career down many avenues, Iida says.
"She's a professional right now and I know she's aiming for the next Olympics in Tokyo 2020," Iida said. "Beyond that, she could do whatever she wants. With her attitude and her personality, there are a lot of other things she will be successful at."
After winning gold in the 2016 Olympics, Smoliga says she faced her biggest challenge, which was finding the grit to continue training.
"My mentality was my biggest struggle and realization," Smoliga said. "A lot of people push the mental part to the wayside and I honestly think that [most] of what goes into being a successful athlete is being able to deal with the highs and lows of successes and failures."
Looking back at her years of swimming in high school, Olivia encourages high school athletes to find something they are passionate about and to focus on their individual goals.
"Your individual happiness is what matters the most," Olivia said. "If you have one thing that you are passionate about, stick to it, keep going, [and] don't stop because that will give you a reason to wake up in the morning."
David Knudson, a swim coach while Smoliga was at South, says her humility stood out and is what makes South's connection to her most meaningful.
"Mostly, I'm just really happy that someone as nice and hard working and grounded from this community has had so much success," Knudson said.