Girls' rowing team continues to grow through first season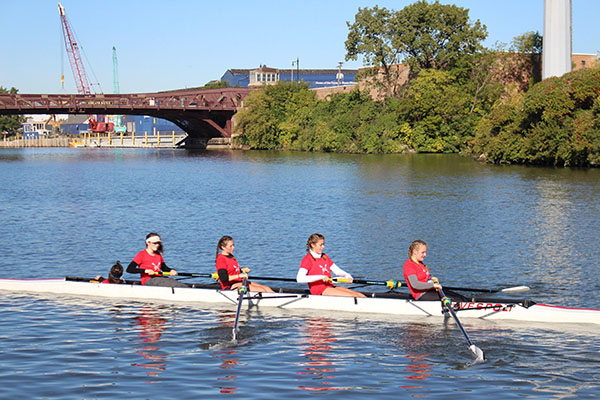 As the boat glided across the water in the heat of the summer of 2017, then- 8th-grader Meredith Jenny rowed for hours discovering her newfound passion. As the summer came to an end, now-South-freshman Jenny was determined to continue rowing competitively as a high schooler.
Founded by Jenny at the start of her eighth grade year in 2017, South's rowing club has gained more exposure and members. Jenny's goal was to have an official team for the fall 2018, she needed a certain number of people interested in joining rowing. The club has expanded immensely since she started it in 2017.
"It's been a process to grow the club to where it is now," Jenny said. "We started with about six [people] and it grew to about 12. As more people joined, more people found out. This spring season, we started with 26 girls, which is pretty impressive."
While most high schoolers sleep in as late as possible during the school week, the rowing team wakes up at the crack of dawn. Making the daily commute to Dammrich Row Center in Skokie, Jenny arrives at practice at 5:30 A.M. along with the rest of her teammates as they prep for the spring season.
"Sometimes it's sprint pieces, sometimes it's timed intervals, sometimes we have distance-oriented pieces," Jenny said. "You get there feeling kind of tired, but you leave the DRC feeling super energetic."
As the team transitions from practicing on the rowing machines, they make their way to a branch of the Chicago River in Evanston to prepare for the competitive meets ahead. Once they are out on the water, the practices consist of learning how to better their split time and stroke rating, according to senior Logan Steenbergen.
"[Split time] is how fast you can row five hundred meters and a stroke rating is how many strokes you're taking per five hundred meters," Steenbergen said. "You can have a low stroke rating and a fast split because you can be taking a longer recovery."
Along with the physical rigor of the sport, rowing requires a strong team mentality, according to Jenny.
"I love [rowing]  just because there's a certain energy once you're on the water," Jenny said. "Everybody's always so supportive of one another and it's such a  team sport. There's just a certain emotional mindset [that you need] on the water."
The team is currently preparing for their first official regatta, or race, on March 23 in Grand Rapids.