Girls' basketball finds success in coach's last season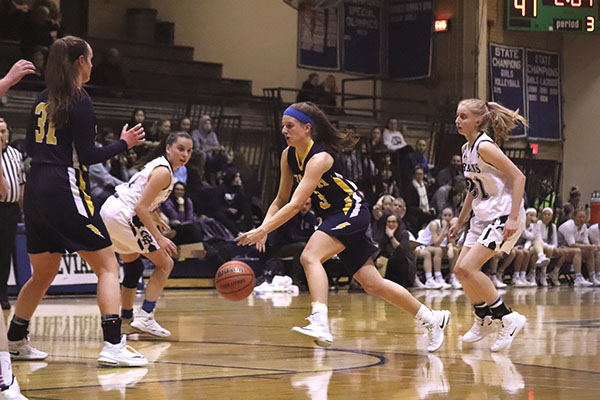 Senior captain Makayla Stadler dribbles up the court. Searching for an open teammate, she does a quick crossover and blows by her opponent, driving straight to the hoop for a layup and scoring for her team.
Stadler has been playing basketball since she was five years old. She played on her older sister's basketball team with her dad as her coach.
"I loved playing with my sister and having my dad as my coach," Stadler said. "I wanted to try to be an amazing basketball player in front of my older sister. I tried to be better than her. Also, I wanted to try to impress my dad."
Stadler's teammate, Grace O'Brien, and the rest of the bench players provide tons of energy off the bench, according to Stadler.
"When we are down in games, the bench still has so much energy which causes everyone to still play a big role on the team." Stadler said.
O'Brien and Stadler both agree that when they lose it is very disappointing. They have had some very close losses, being able to hang with other teams during games, but not able to grab the win. According to Stadler, their New Trier, Fenwick and Evanston losses were all within three points.
"Usually the games that we lose we have a good chance to win," O'Brien said. "We just couldn't finish in the second half. It is always hard to lose."
Despite their losses, O'Brien hopes to work on shooting to help them improve for the rest of the season because they are a great driving team.
"I would feel a little upset [if we don't achieve this goal] but it is my senior year and I'm not going to be playing in college so I am just happy to have this time with my team and to be playing while I can," O'Brien said.
Both O'Brien and Stadler say that the team is close. According to O'Brien, they have a special pre-game ritual that gets them prepped for every game.
"Before each game, the coaches will leave and we will all get in a circle and the captains will say speeches about what we should try to do in this game," O'Brien said. "Then we will all go around and say an inspirational word that contributes to the team."
According to head coach Steve Weissenstein, who will be retiring this season after a 30-year career as a basketball coach at South, Stadler is an excellent leader and is uber competitive. She leads the team alongside seniors Kristin Ralston, who has committed to play college basketball at Johns Hopkins University next year, and Libbie Vanderveen, he says.
"[Stadler] wants to win every drill, and this is her fourth year on varsity," Weissenstein said. "She likes to have the ball in her hands when the game is on the line. Since she works hard in practice, it makes other players work hard in practice."
According to O'Brien, this year there hasn't been enough support given to the girls' basketball team.
"The school is focusing a lot on the boys' team more than the girls' team which is hard when we have big games," O'Brien said.
She hopes that South will support the girls and their successful season.
The girls' basketball team is 18-7 going into their final game of the regular season, where they will host Maine South tonight.