Fencers defend state, national rankings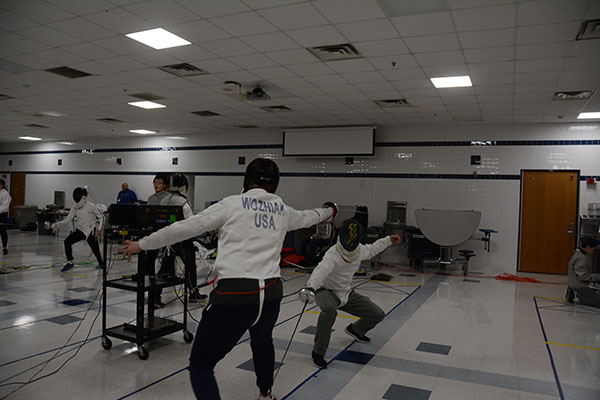 Senior Nick Depies moves side to side with his épée, a fencing sword, in hand. He focuses intensely on when and where he is going to get his next touch. He moves in and touches his opponent on the chest, gaining a point.
Depies, who finished first in the state last year, has been fencing since he was  9 years old and has loved it since the beginning.
"It was just a lot of fun," Depies said. "Most of [my friends] ended up quitting [fencing], but I really liked it so I kept going."
While Depies uses the épée as his sword, his teammate, sophomore Michael Romanov uses the foil. Romanov fences for the Russian National Team and is nationally ranked in the top 30 for his age group. According to Romanov, if you wanted to learn the rules of the foil, you would have to read a whole book with all the rules.
"Out of the three, foil, saber and épée, foil is considered the most complicated rules-wise," Romanov said. "The targeter is only the torso, so no limbs or head."
Both Depies and Romanov agree fencing is a very tough sport and takes lots of mental focus. They explain that at all times you have to be mentally present to win the fencing match, or a bout.
"Being an individual sport, it is easy to psych yourself out," Depies said. "Staying in the game mentally is the hardest part."
Romanov explains that fencing isn't the stereotypical sword fighting people view it as.
"The fencer wins solely through the stability of their mind and whoever is focused and set on gaining the point," Romanov said. "The person that breaks mentally first will inevitably lose because the other one's focus will dominate."
While Depies explained that fencing was difficult because of being mentally present, he also explains how footwork is also necessary. According to Depies, footwork helps you become a better fencer.
"Good distance means good timing." Depies said. "I like to move around more and go for finesse touches. However, if you fence without good footwork and distance, you aren't going to be a very good fencer."
According to Coach R.J. Gravel, Depies and Romanov show excellent leadership on the team.
"[Depies] and [Romanov] not only lead warm-ups and set up practice bouts, they also provide individual coaching to their teammates of all levels," Gravel said. "Receiving timely feedback from experienced teammates like [them] help a novice fencer make slight changes that can lead to a win."
The team participated in the Midwest Open on Dec. 8, where Romanov placed first in men's foil. The team will compete again tomorrow at Evanston Township High School.
Gravel, Depies and Romanov all agree that fencing is a sport people should try.
Depies said, "Give fencing a try. It is a sport a lot of people overlook because it isn't as common."