Boys' basketball shoots for regional title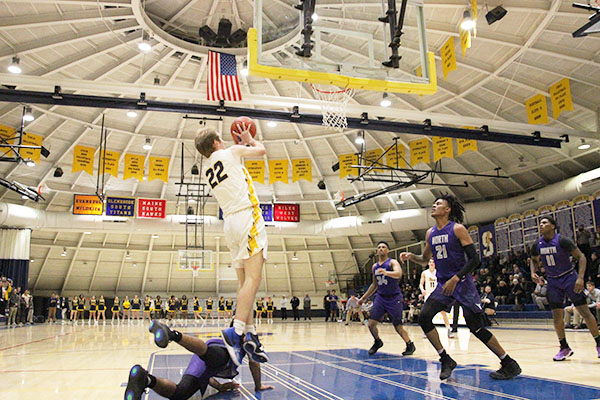 The Titans walk onto the court preparing themselves to compete against Evanston Township High School, who finished second in state last year. Each period, filled with battles for every ball and shots from left and right, eventually turned in South's favor with a nail-biter win of 61-54. Despite Evanston's ranking, the Titans encapsulated a positive mindset prior to the game, which led them to victory, according to Head Coach Philip Ralston.
"You want to play the best to become the best and a great team like Evanston makes you have to perform at your best, and our guys did that tonight," Ralston said. "I told [the team] that if we could control our turnovers against their pressure, if we could weather that storm, I felt confident we were going to win."
As the game came down to the last minute, junior Dominic Martinelli finished off his last shot, topping him off with a total of 34 points against Evanston. While Martinelli made shot after shot, he says it could not have been done without his teammates' passes.
"It's exciting, especially going up against Evanston, which is one of the best teams in the state," Martinelli said. "I was getting tons of open looks from my teammates passing the ball, which was great."
At the end of the 2017-18 season, led by Ralston, the Titans finished with a record of 9-19. Last year, Ralston's first season with the team, new strategies were introduced and it took time for the Titans to adjust to a new coaching staff. However, Ralston says having a year of experience with their game plan will benefit them this upcoming season.
"With another year under their belt, they have a better idea of how to run the offense," Ralston said. "I want them to be able to run and to defend the way we need them to defend."
Co-captain Will King emphasizes that the team chemistry this year is much stronger than last year. With the lack of chemistry and solid understanding of Ralston's system last season, the Titans did not perform the way they had hoped, King says.
"[The returning players] will help the new guys a lot, being able to teach them what to expect and kind of help them grow," King said. "We have all been playing with each other for awhile now, so we have a lot of good team chemistry which will help us."
Co-captain John Travlos also believes that constant encouragement for each other on and off the court has helped the team work together. Travlos emphasizes that the team's hard work in the off season created the confidence that brought a change in the program this year.
"In the games we are talking and encouraging each other the whole time," Travlos said. "If we can sustain that the whole year, we are going to shock the world."
The players can be heard chanting their new motto, "TWR," or "Titans Win Regionals," from the sidelines. South's basketball program hasn't won a regional in 10 years and the Titans hope to end that streak this year, according to Ralston. They have also beat Conant, Niles North and GBN since their ETHS win, and they played New Trier on Wednesday.
While starting off the season on a successful path, Travlos and King both emphasize that the team is united for a common goal.
"This year, we are all pulling on the same rope," Travlos said. "We're being selfless, and it shows that our team is above our ego."