Men's volleyball relies on team chemistry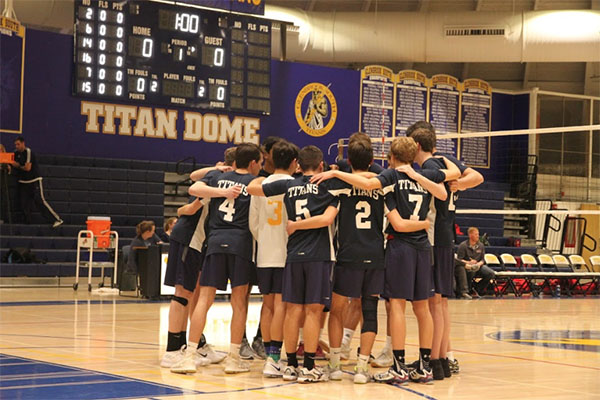 He runs. He dives for the ball. Will Langas, junior defensive specialist, makes a save for a serve that seemed impossible to get. At South, there is a high level of competition and high expectations for the players in the volleyball program. There are a lot of standards to live up to, according to Langas.
Head Coach Timothy Monahan says that he wants the team to continue adding to their record by maintaining their lead in individual matches.
"Moving forward for our last two weeks and going into the postseason, I think we would just like to see us push a little bit when we're up [points-wise]," Monahan said. "Instead of keeping [an opponent] close, [we should] put some distance between [their score and ours]."
Earlier this week, Langas says the team finished their season with a record of 17-15 and 6-4 in conference.
"We had our ups and downs over the season, and although we didn't end the season where we wanted, we are all still proud of our season," Langas said.
Current setter, junior Thomas Cavallaro, believes that the team can improve their attitude in individual matches in order to win more games overall.
"For the rest of the season I think we should just stay focused on each game individually and not really think of the rest of the season as just a group of games," Cavallaro said. "[We shouldn't] really underestimate a team and [we should] focus on how we play [instead]."
The team wants to try and win as many regular and conference games as possible, according to Langas. Despite some setbacks, Langas says they have been able to overcome them, which resulted in many close wins for the team.
"We played Hersey, who was 21-3 [in games] and we were going into the game at a disadvantage after our setter got hurt," Langas said. "But we battled back and nearly [beat Hersey] which is one of the better teams in the state."
According to Cavallaro, the team's performance is reflected on the amount of returning players in the Hersey Invite. He believes that the Hersey Invite put them on the right path for the rest of the season.
"We're still trying to re-form as a group because there are not that many returning players from last year," Cavallaro said. "But I thought [the Hersey Invite] was a good step in the right direction for the rest of the season."
Knowing your team is a big part of volleyball, according to Monahan. Once the team has a better understanding of each other, it improves the team chemistry overall.
"The guys do a great job of getting along, and that's a big part of the sport," Monahan said. "You've got to be able to have that chemistry on and off the court."
According to Monahan, having this chemistry will not only help them in their upcoming games, but it will also benefit them next year.
"They can stay relaxed," Monahan said. "A lot of teams can get upset, [but] our guys just stay relaxed and calm and fight through it."
Much of the make-up of the team is created by the friendships that are made through everyday practices and team gatherings, Langas says. For example, before a game, someone says something to the team about the game and it gets them excited to play, according to Langas.
"We have a lot of kids who are really close on the team, so it's fun to be a part of that." Langas said. "We have all known each other for three or four years now."
Even though the chemistry is present within the team, they still need to work on their confidence and trust with one another, according to Cavallaro.
"The friendship part is just constantly there in our practices and games," Cavallaro said. "We are all a bunch of friends and a lot of us are in the same friend group, and if not, we all know each other from club."