Women's soccer seeks to add ninth regional title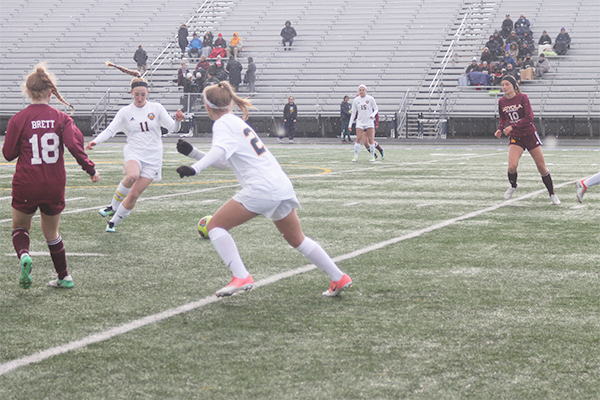 After making it to the regional title game last year, the women's soccer team is off to an undefeated start  this season, according to senior Captain Alexandria Shaw. With a strong, aggressive team this year, Head Coach Seong Ha is hoping to win another regional title, his 9th in his past 12 years as the head coach.
"[I want to] finish in the top three of the CSL South, win the Glenbrook Cup and earn at least another IHSA regional title," Ha said.
The soccer program as a whole has a lot of talent and depth, according to Ha, not only on varsity but across all of the teams. The varsity team needs to work on improving their defensive formation and remaining consistent throughout the course of games, Shaw states.
Ha said, "[We can improve] our overall team identity in how we want to be and how we want to play."
Key players on this year's team include Shaw as well as the other two captains: senior Lauren Meier and junior Libbie Vanderveen. Shaw says all members of the team play an important part, and the talent comes from all ages like Weiss, sophomore Ellie Flowers and junior Makayla Stadler.
Weiss said, "One of the most influential players is probably Alexandria Shaw. She's a really good captain and even though she's two years older than me, I feel like I can go to her for anything."
The girls are currently 6-0-2, having tied with Glenbrook North and Normal Community West.
The Glenbrook North game was a crazy game, according to Weiss. South was favored to lose, but was able to pull off a tie game 1-1 thanks to a goal from Makayla Stadler.
"We had a corner kick that got deflected and Stadler headed it in," Weiss said. "It tied the game and it was the first game where we really connected as a team."
Each practice is different and focuses on things to help the team succeed as a whole, as well as specific drills to benefit each position, according to Shaw. Ha says he tries to mix things up to make practices fun and engaging while helping improve the skills of each and every player.
Ha said, "There is a theme and purpose to everything we do in order to prepare for our next opponent. [We take it] one game at a time."
Last season, the team had more speed, but this year there are more physical players who are able to set the tone for the game, Ha said. Continuing with building up the intangibles, like field awareness and soccer IQ, will help the team succeed as a whole.
"Last year, we lost a lot of our defenders, but we are working on making sure our defense is just as strong," Shaw said. "We definitely need to start taking the same amount of shots that we did last year."
For the women's soccer team, the opponents to beat this season are New Trier and Loyola. Shaw hopes that playing together as a team and staying optimistic will help them pull off wins against their biggest competitors.
"Our passing is getting better and better as well as our shots," Shaw said. "We have a lot of strong defenders and we also picked up a lot of talented underclassmen."
After a crucial tie with Loyola, keeping both teams undefeated, South is preparing to beat New Trier in their home game on April 17.
South looks forward to other important games including the Glenbrook Cup, taking place from April 26-28.