Men's water polo starts season off strong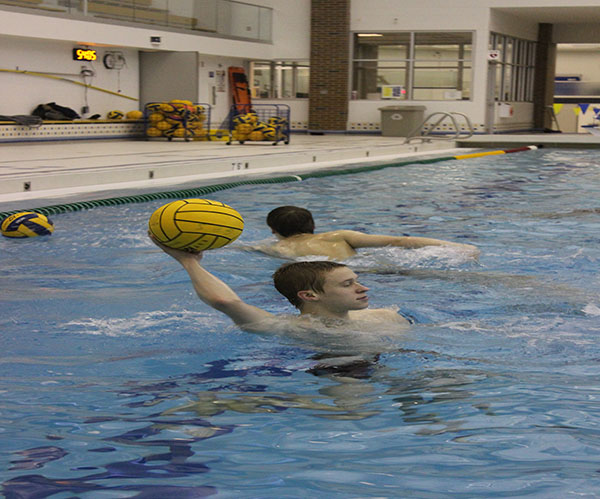 With a 9-1 record, the men's water polo team started off strong this season, according to Head Coach David Lieberman. Just like every year, Lieberman has high hopes for his team to play well enough to get a shot at the State tournament.
Lieberman states this team is different than past years because many of the players have been playing together for a long time.
"We have most of our starting lineup back," Lieberman says. "These guys are used to playing with each other and know where everyone is in the water at any given moment, that's a real strength of this team.They're not as fast as some of the teams I've had in the past, but they definitely have more experience."
Senior Nick Shechtman was recently out with an injury, and now junior goalie Aiden Clippinger is out with a leg injury, which has been a setback for the team, according to Shechtman. Although injuries have provided challenges, Schectman says it's opened up new opportunities.
"Our back up goalie [junior Jack Davenport] has done a really good job preparing," Shechtman says. "A good thing about me being out is that we could get a lot of guys some really good minutes, which is going to help us down the line. All that matters is Sectionals, post-season, and state."
The Titan's good chemistry and leadership this season  has helped make them stronger and more efficient in the pool, according to Shectman.
"As a team, there's a lot more ball movement," Shechtman says. "In years past, we've had stars that run a lot of isolation plays and the offense runs completely around them, but this year we have so many different key players that we feel confident feeding the ball to anybody and letting them do their thing."
With depth and experience, this year's team has the potential to be one of the best in recent memory, according to junior Zach Bilimoria.
"Everything's just adding up to be a perfect storm in a good way," Bilimoria says. "We have good communication, good ball passing, [and] good chemistry, so we're looking at a great year."
The Titans are looking forward to playing rivals New Trier and Loyola in upcoming games, and are looking towards the state tournament, according to Bilimoria.
"I believe we have a very good chance of getting to the state tournament," Bilimoria says. "Last year, New Trier was dominant with their whole starting lineup going to Division 1 schools, which is an incredibly hard task. Like many teams, there are up years and down years, and this is definitely one of our up years."
Shechtman is excited to play challenging teams and is only taking away positives from their loss against Evanston to ensure a chance at winning the state trophy.
"[To win state], we have to win our sectional and then get top three in the state tournament," Shechtman said. "Personally, I just want to do everything I can to lead this team, make it easier on the rest of the guys so they can just focus on themselves."