Men's swim dives into post-season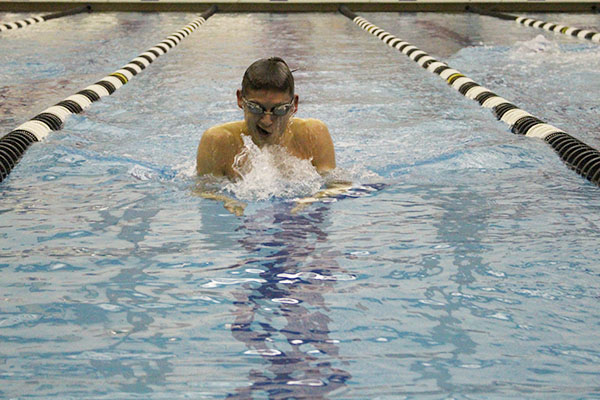 As a team composed of mostly underclassmen, the South swim team looks forward to the end of the season, hoping to return to state in the top 10, according to head coach Keith MacDonald.
Losing several seniors this year forced the team to adapt,  MacDonald says.
"We lost one of the best swimmers in the nation, Sam Iida, which was tough," Macdonald said. "We lost other very talented swimmers that swam at  state who are hard to replace, but we have some tremendous underclassmen. Our seniors have been doing a really good job leadership-wise."
Because talented seniors graduated, new team members have stepped in to fill the leadership vacuum, including senior Nick Shectman. Shectman says this year is different from the past because he is now a role model to underclassmen.
"I'm just going out there and having fun," Shectman said. "I have been so used to having all these role models helping me through [the season], but this year it is all me. I am in their position now, I'm helping my teammates."
At the Evanston invite, which took place on Jan. 6, the Titans performed their best, sophomore Adam Zuiker says. The invite brought together all the top teams in the state. South finished in fourth place out of 18 teams.
"We really pushed ourselves," Zuiker said. "That was unexpected because we're all so young and inexperienced."
The team swam their best against GBN, according to Shectman. The Titans defeated the Spartans 114-72. South beating their close rivals by such a margin was unexpected, according to Shectman.
"It's a really great thing to put your foot on the throat of your rivals," Schectman said. "I was really proud of our performance."
Last year, Zuiker competed at the state meet. According to Zuiker, it was a completely new experience being surrounded by other swimmers at his level. Zuiker hopes to return to state this season and believes that there won't be as many nerves.
"I'm hoping to make it back [to state]," Zuiker said. "This year I'm hoping to make the finals and to help our relays as well. I have a little more experience this year so hopefully I won't be as nervous and I'll be able to swim fast."
To motivate the swimmers throughout the season, MacDonald continues to repeat the phrase "all in." According to MacDonald, the phrase means that in and out of the pool, the swimmers remind themselves of their goals and stay motivated to the postseason.
Shectman said, "Mac always tells us to be all in, [which means] that you just have to be completely committed to the sport, to the team and to your teammates to be successful. To be a swimmer, there are no shortcuts, it is all hard work and you have to be 'all in' if you want to be successful at this level and at the state meet."