Swim & Dive makes a splash this season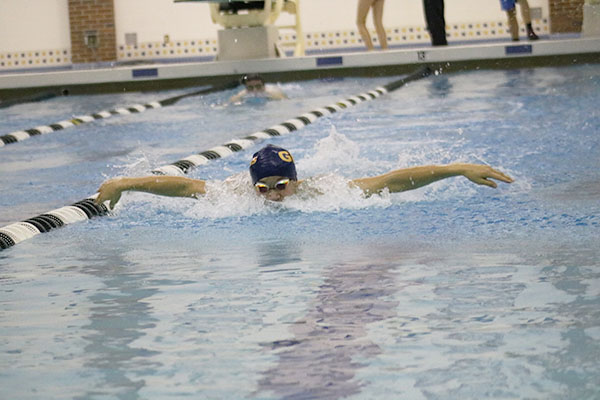 After the men's swim team finished last years season with a win at sectionals and a seventh place finish at state, they are eager to achieve more, according to senior Eddie Loughran. According to Loughran, the upperclassman aren't just looking to reach the state tournament again, they are also looking to mentor the lowerclassmen.
Head Coach Keith MacDonald is eager to see how this year's seniors will set an example to the younger swimmers. Having coached for 27 years, MacDonald emphasizes that each year varies depending on the athletes.
"I'm excited for our seniors to perform well and also to learn how to lead us throughout the year," MacDonald said.
The difference in this year's team compared to last is the young talent, according to senior Nick Shechtman.
The men's diving team is also starting fresh, returning only two divers, seniors Jack Grier and Connor Dyball, according to head coach Laura Duffy. Helping the younger divers develop throughout the season is a task the seniors must take, according to Grier.
"They are going to have to learn a lot of new dives," Grier said. "There is definitely a mindset that they have to be in. Getting them motivated is definitely a key part in my role as a senior."
According to Dyball, mental focus for each and every dive is key.
"The mental state in diving is insane, you have to be very focused," Dyball said. "It is super important for a diver to be focused when they are standing at the end of the board."
 Although commitment is crucial, taking time to have fun is vital, according to Dyball. In spite of the fact that diving is an individualistic sport, team chemistry matters, according to Dyball.
  "Giving each other support and encouragement is a good opportunity get in to the mental state," Dyball said. "[Diving] helps me create a really close relationships with the team."
  Duffy believes that this season will be more teaching than coaching. Although early in the season, Duffy claims she has seen improvement in the new divers. It is important for the new divers to learn and improve throughout the season and apply it into the dives, according to Duffy.
"This year we are starting over. We have a team of all freshman, with only two returning divers," Duffy said. "It's a year with a lot of rebuilding, with more teaching than coaching."