Women's swim & dive looks to qualify for State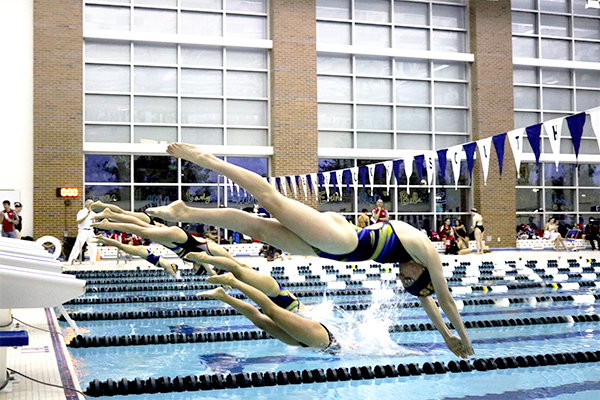 The GBS women's swim team is back in the pool this fall with several victories already including against competitors such as GBN and Evanston. As the season progresses, the team hopes to continue succeeding and finish strong, according to senior Erin Nitahara.
"Swimming has been a pretty big part of my life and I just hope to end on a good note," Nitahara said. "It's really important to me since it's probably the last time I'll ever race."
With less than a month left of the season, the team has begun preparing for the state championships. According to Keith MacDonald, head varsity coach for both the women's and men's  swim teams, sectionals and state have become the prime focus.
"We hope to perform well at the conference, sectional and state," MacDonald said. "We are tapering mostly for sectionals in hoping to qualify individuals and relays to state."
With a goal of qualifying for the 200-yard freestyle, 100-yard freestyle, 50-yard freestyle, 500-yard freestyle, and several relays, MacDonald explains how the team has been strategizing their training in order to improve their performance at sectionals. According to MacDonald, this can be done with not only lots of training, but also lots of rest.
"We taper our workouts and tend to decrease yardage [to rest]," MacDonald said. "We [also] will eliminate our morning workouts two weeks before state and increase our sprinting."
Working as a team rather than individually is what will push the team to train harder in these last couple weeks before state, according to junior Morgan Kang. Kang says, if they do not work as a team, it will be even more challenging for everyone to improve and qualify.
"Obviously it's an individual sport because you are in the water alone racing for yourself," Kang said. "But it's [also] a team sport [because] you have the motivation of your teammates with you, [which] motivates you to keep going, keep trying, and putting in all your effort."
Not to mention, state is not easy to qualify for, according to Kang. As Kang explains, each swimmer can only qualify for state once at the sectional meet. Therefore there are a lot of pressures that come with that.
"You can only make state at sectionals, so you only get one shot at it," Kang said. "The state times are also faster than club season times, so it's definitely a struggle to make state during high school season. [Even if] you are going state times during the season, you [could] slip off the block at sectionals and not make [the state cut]."
Junior Catherine DeVine is one of the several swimmers hoping to qualify for state. Already swimming the state time for the 50-yard freestyle in a previous meet, DeVine hopes to go an even faster time by focusing on her technique.
"I've been working harder on the little things that will help [me qualify]," DeVine said. "Individually, I've been working more on my technique. [Instead of] just trying to race every race and win it, I'm trying to work on taking it slower and [improving] my technique."
In freshman Emsela Orucevic's opinion, qualifying for state and performing well at sectionals is not all physically oriented. Orucevic hopes to qualify in the 200 freestyle relay, and emphasizes the importance of positivity in swimming. She explains how her mindset has changed due to the transition into high school swimming.
"Before high school season, I wasn't positive about my races," Orucevic said. "But during high school season, I started getting more positive and thinking of what I could do better on. [Training with a positive mindset] is hard, and it takes a lot of time and effort."
Yet even with the challenges and difficulties that come with it, having a correct and positive mindset is what will cause success, according to DeVine.
"Hard work and being there mentally can really push you forward in swimming," DeVine said. "We're all there physically at the state meet, but you really have to be there mentally [to succeed]."
But overall, the best part about swimming is knowing all the hard work and training will eventually pay off, according to DeVine. The state championships are what proves this to each individual who qualifies, DeVine says, and it perfectly provides a great closing to the season.
"[Succeeding at state] really shows that if you put the effort into it and the mentality, you can get to a higher level of swimming," DeVine said. "It feels good knowing all that effort will pay off."