Women compete in male-dominated sports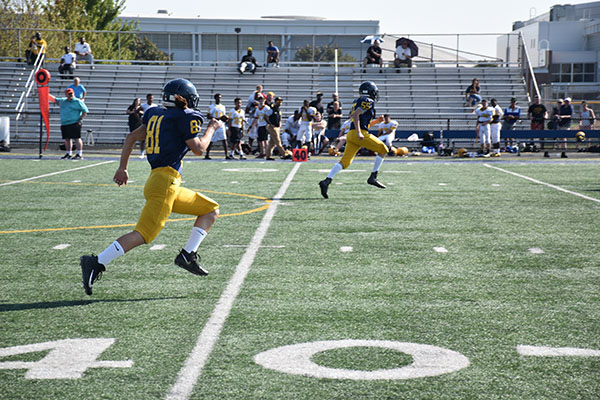 They might not be able to out-muscle their opponents, but they can outwit them. Currently, according to Timothy Cichowski, the GBS wrestling coach, women joining male dominated sports has been increasingly popular. Both junior Alinne Merida on the JV wrestling team and freshman Katie Pribyl on the freshman football team are on mens' sports. According to their coaches, both women have excelled.
According to freshman football coach Matt Hoshaw, he was initially surprised to see Pribyl try out for the team. As far as Hoshaw knows, the football team has never had a woman try out. Hoshaw explained that Pribyl brought intensity, passion and heart to practice during the season.
"Even from when I played football here, there was never a girl that was playing, so it was a surprise," Hoshaw said. "Seeing her and speaking with her, to hear that she's been playing her whole life and it's not just that she came out for freshman year, this is something that she's passionate about. You can tell that it does mean something to her."
Through Pribyl's playing, she hopes to convey that women shouldn't be discouraged from trying out for men's sports. According to Pribyl,  she also wants to show that girls can play contact sports and that gender stereotypes  should not impede more girls from playing.
"I wanted to show that you can do anything and it doesn't matter what gender you are," Pribyl said. "You can play football if you want to, it's not solely a boy's sport."
Merida has similar feelings about women being on primarily male sports. According to Merida, although she had support from her teammates and parents, she had to persevere through adversity from her peers.
"Many of my friends and family suggested me to not to do it," Merida said. "There hadn't been girls on the wrestling team in a long time. That was my first obstacle in someone telling me not to wrestle."
Merida explained that she has always been treated with equality and respect by her coaches. According to Merida, she was thankful that her coaches welcomed her to the team, and treated her as just another member of the team.
"For me, my coaches never treated me differently than the rest of the team," Merida said. "I really do appreciate it because it must have been hard having one girl and a bunch of guys and I thank them a lot because I never felt different."
Merida fits right in with the team and she has continued to grow in the sport, according to her coach Tim Cichowski.
"She's adapted well to the sport, and I think her self confidence has to." Cichowski said.
According to Merida, she hopes that her story will inspire others. Merida believes that it is harder for girls to join men's sports due to stereotypes and gender norms.
"Boys all play the same sports," Merida said. "I think that guys dominate most sports. For example, in football, many people watch the guys play, but [they do] not [watch] the girl [sports] and [it] sets off a stereotype that only guys can  play football," Merida said. "In my opinion, it's harder for a female to join a majority male team because the intensity is higher."