Titan of the Month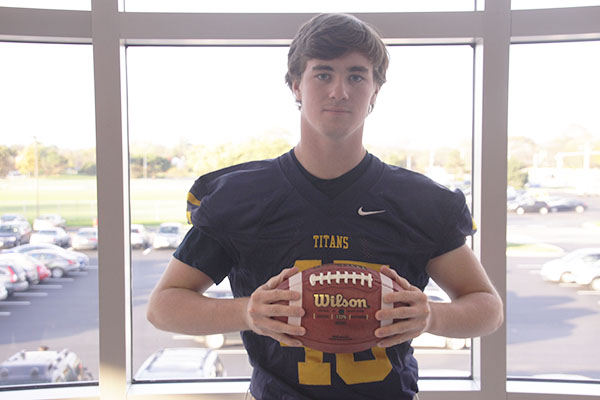 Titan of the Month is a Q&A based on athletes nominated by the Oracle's sports editors and voted on by South students.
   Conor Nash, senior middle linebacker, played for the South football team all four years of high school and was on varsity his junior and senior year.
Do you think you emerged as a leader this season?
"I think I did. I consider myself a shy guy around people I don't know, so I didn't know a lot of the guys and they didn't really know my personality. … I don't consider myself a vocal leader, I consider myself a more 'lead by example guy', so it took a lot of effort for me to be more of a vocal leader."
What have you personally done as a leader this season?
"During the games I try to keep the energy high, because football is such an up and down game that if one bad thing happens it can bring everyone's mood down. So one thing I try to do is get the energy back in guys and not let their head get down because once your head is down, you can't bring that energy back. So keeping guys' confidence and energy up is what I try to do."
What advice would you give other players on your team?
"Always be ready because you never know when your time is going to come. Especially for me, because my junior year I never would have seen the field if it wasn't for a last minute injury to [South alum] Ryan Tovcimak, a guy I looked up to.When he got injured I didn't know I was going to play middle linebacker, so always be prepared and always be ready."
What is your favorite memory from this season?
"Week three against Conant, going into overtime after we had lost a field goal. We had lost an opportunity with that missed field goal, but going into overtime and stopping Conant on four downs, and [senior] Savontae [Garner] scoring on one play for a ten yard touchdown and dog-piling in the endzone was one of my favorite memories."
Do you have a favorite memory for you personally?
"Also in the Conant game, it was a crucial fourth down, and [they] were going for it … and did a boot-pass towards the endline. I was running from behind and dove. [I] managed to get a piece of the ball and ended up turning the ball over and getting that opportunity back."