Girl's cross country trains for season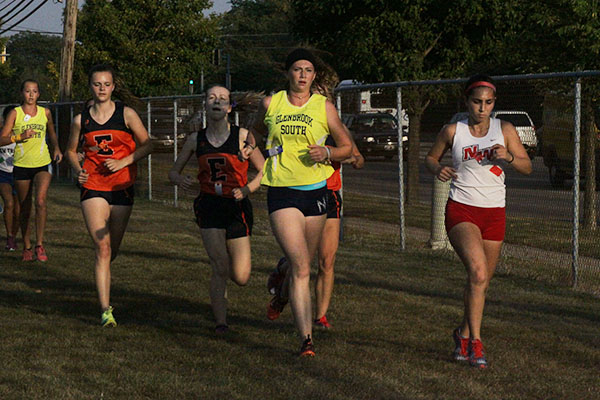 With a senior down due to an injury, a spot needed to be filled in the cross country varsity girls race at the Wauconda Invitational of September 2016. Junior Catherine Nowak was pulled aside and asked to step in. Never running in a varsity race before, Nowak's nerves could not settle.
"I could feel the butterflies in my stomach and a thousand worst case scenarios popped into my head," Nowak said.    
Finishing in third place at this year's Wauconda Invitational only a few weeks ago and in fifth at the Warren Blue Devil Invitational, the South girls cross country team is striving for not only continuous improvement, but also becoming closer as a team, according to senior Emily Noone.
"Some of our team goals this season is to really become closer," Noone said. "[We also are] trying to be more supportive of everyone and really focusing on the team aspect and not the individual."
The cross country season runs from the beginning of August to early November, explains Nowak. With a team of over 40 runners, each athlete works hard every day at practice to challenge themselves in order to better their running and performance at meets, according to Nowak.
"A typical cross country practice consists of a one mile warm up around the school or indoors on the fieldhouse track, then we do dynamics and get all stretched out," Nowak said. "We have one day where it's all crossfit workouts, another where it's interval training, and sometimes we even run up and down hills. Then after that we do a couple laps of a cool down, stretch and roll out, then we're sent home."
Although each runner contributes to the team's success, a few really stand out from the rest, according to Noone.
"A key player would be Kate Jortberg," Noone said. "She is at the front of the pack right now and really motivates the team to work harder and try to keep up. She is also a great team player and are always encouraging teammates to keep going, stay positive, and really enjoy running."
Along with practice every day after school, the girls have meets almost every weekend that can last up to seven hours, according to Jortberg. Each meet usually has a total of three divisions and six races. Each race consists of a three mile run, with everyone running the same course, according to Jortberg.
"[The meets are] really exciting because there's a lot of different races and everyone [is] cheering for you," Jortberg said. "It's just an amazing experience, it feels really hard but everyone's there to support you."
Keeping up their positivity is one of the best ways the team can prepare for their races, according to Nowak. One of the ways the team does this is by bringing two blow-up-dinosaur costumes to each meet for two athletes to wear, according to Fastert.
"It's just fun," Fastert said. "I feel like the girls get super nervous at the beginning of their races and the dinosaur costume just helps lighten the pressure. I have found that if they just learn to have fun while running, they will love it beyond the season."
Not only is maintaining a good physical health critical to cross country, but also a positive mental health is just as important, according to Nowak. She explains how running has helped with keeping up the confidence in and out of cross country.
"I've learned that no matter what, never give up on anything," Nowak said. "When you're running it's hard to just keep going because you're in a ton of pain, your knees hurt, your legs hurt, your shins hurt, your arms hurt, and you feel like you're going to throw up. But if you say to yourself 'you can get through this' I can convince myself that I'm capable of anything I put my mind to. Running three miles as fast as you can is not an easy task, but if you have the right mindset, you can really achieve that. You just have to think positive thoughts, and running has really helped me think more positively during my daily life."
According to Fastert, Teaching these principals is what she strives to do as a coach. Fastert also believes everything taught and learned through cross country should be applied both in and out of the sport.
"The main goal is to create a group of girls that love running after the season," Fastert said. "That has always been, and will always be, a goal of mine. Another goal is to foster a culture where they feel empowered to be themselves in and outside of cross country season. We spend a lot of time working on the whole athlete versus just focusing on running."
Focusing on having spirit and positivity not only improves their performances, but also creates a family within the team, according to Nowak. Everyone becomes closer and pushes each other to continue improving, which is the primary goal of the team in the first place.