Girls' volleyball embraces positivity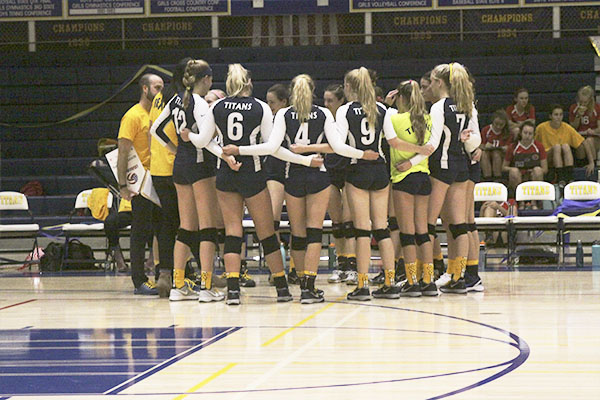 Captain Megan Quill dives outside for the ball, tips it to her teammate and they get the kill. The women rejoice in each other's play. And in this case, they just won their first match. The women look to one another as they feed off each others positive energy. Quill is confident they can keep this positive mentality for the rest of their game against Glenbrook North.    
The 2017 women's volleyball team holds a current record of 9-10. According to Head Coach Kelly Dorn, the women hope to look to last year's leadership to help them gain momentum moving forward into this season.
Captain Cat Berg agrees with Dorn when looking back on their past season, that their senior leaders were strong influences.
"We had really strong leaders [last year]," Berg said. "We want to carry out some of their characteristics on and off the court that translated into success."
A common theme for the team this year is keeping positivity on the court, says Captain Kacey Leone. Leone believes that if the women can keep a positive attitude and energy during not only games but practices as well, the Titans will be able to perform better for higher stake games. 
"Practicing keeping a positive energy and attitude during practice and nonconference games will hopefully translate into games that we really want to win," Leone said.
Similarly to Leone, Quill believes that reinforcing a positive attitude for everyone on the team will lead them to playing better. According to Quill, the Titans had a practice before their game against New Trier where they had a competition to get everyone excited and ready to take on the Trevians.
"We had one practice where half the team dressed up in gold and the other half dressed in blue and we [competed so] everything was worth points," Quill said. "That practice lead us into our New Trier game the next day, which was a close game. We played really competitively and [everyone] stayed positive the whole time."
Along with keeping positivity on the court, the Titans are really working on playing for themselves this season, according to Dorn. Berg also stressed the importance of the mindset that Dorn has implemented so the girls can get the outcomes they want.
"A huge goal [Dorn] has put out for our team is not going into games thinking 'Oh we're playing New Trier, [or] we're playing Loyola but keep the mindset that we're playing ourselves," Berg said. "It doesn't matter what they are doing [on the court], all that matters is [that] we're wearing a GBS jersey, [and] we're wearing blue and gold."
Keeping these two values in mind, Dorn hopes that the women can also use practices and line ups to overcome challenges the team faces during games.
"We're a very defense-based team, as opposed to last year, where we were more offense-based," Dorn said. "[If the defense] falls apart then we tend to struggle [so we] want to come together and be more cohesive."
According to Dorn, the girls really got  to work together early on in their season at tournaments and games. Dorn believes this time really helped the girls work as a team.   
"We started off with 12 matches in eight days," Dorn said. "The girls took it really well and we ran through a lot of different line ups. We [also] had two tournaments, then Lake Forest and Grayslake central who we beat at home."
Even though the Titans lost their last game against New Trier, Leone considers it one of the team's best matches based off the women's energy and confidence.
The next time the women will take the court is Oct. 11 against Niles North.