Girls' swim & dive aims to return to state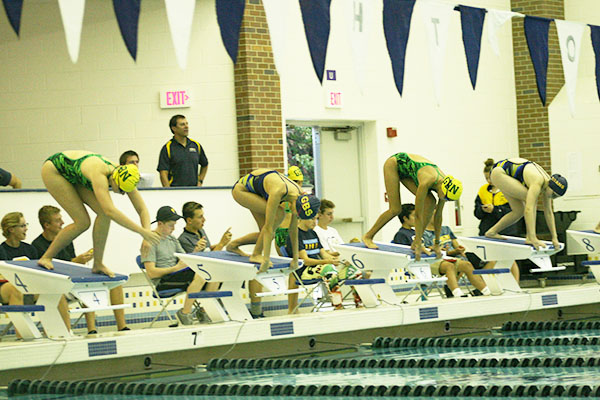 The tension of the entire meet was building up on the shoulders of sophomore Alexis Kachkin and her teammates as they awaited the final event of the meet, the 400 yard freestyle relay. The girls cheered each other on, motivation spreading between them, overcoming the exhaustion. Pushing through the relay as hard as they could, the girls won the relay and the meet at Deerfield, according to Kachkin.
South's girls swim team is off to an exceptional start, according to Head Coach Keith MacDonald, with a 2-1 record in meets against Deerfield, Fremd, and Glenbrook North. The team has been working hard and motivating each other during practices and meets, according to Kachkin.
"We're all progressing really well so far this season," Kachkin said. "It's going to be a great season the way we're going."
Kachkin, along with junior Kate Solem and junior Alex DiMarco, are returning state qualifiers and are looking to qualify for state again at the end of this season, according to MacDonald. The Titans' goals of this season are to train hard in order to swim fast and dive well at the final meets of the season, which include the conference, sectional, and state meets, according to MacDonald.
"We don't get too caught up in what happens in the beginning or middle of the season," MacDonald said. "We taper and rest a little bit toward the end of the season, so we're hoping to perform very well at conference, sectional, and state."
Aside from competing in the pool, the team also participates in Hour of Power, according to Kachkin.
Hour of Power is an event where the girls  swim for an hour to raise money for the Ted Mullin Fund for research on sarcoma, a rare cancer in connective tissues, according to Kachkin. Mullin was a member of the Carleton College swim team  and  passed away in 2006 after a battle with sarcoma. His parents started the fund after his death.
"During the hour, we bring in money and raise funds and it's a really nice moment to realize you can do anything," Kachkin said. "Every year we raise more and more money and it's really great to see how far we've come since we started."
The swim team also works with the organization Feed My Starving Children toward the beginning of the season, according to Kachkin.
"It was honestly such an amazing experience," Kachkin said. "[I loved seeing] how many boxes we packed."
The Titans have their minds focused on one meet, New Trier, on Oct. 13, according to junior Kate Solem.
"The New Trier meet is always fun because we know a lot of the girls from club season," Solem said.
The team has been progressing in terms of mentality and positivity, according to Kachkin. Their motivation of themselves and others has helped them to be the best they can be and to work as hard as they can as a team towards achieving their goals of swimming and diving well, especially at the state meet.
Bonding with each other has made them closer, according to Kachkin.
"There will be meets where we'll think that we will lose and sometimes that mentality gets to us but that's where the strength comes in," Kachkin said. "We have so many of those inspirational people on our team who push us."
The Titans have set big goals for themselves as a team and individually, according to Solem.
"I want to go to state," Solem said. "I swim the 500 freestyle and my main goal is to beat the GBS record of 5:03.79."
The girls' swim team has multiple meets coming up, including senior night vs. Niles West on Oct. 27 and the conference meet on Nov. 4, according to Macdonald. The Titans look to perform well at the conference and sectionals meets  as they look to make their way back to the state tournament.