Boys' golf looks to make it back to State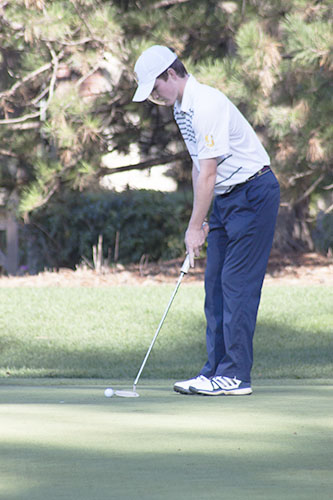 Henry Schleizer, asst. sports editor
October 6, 2017
After a team loses two of its most experienced players, regression is expected. Kevin Paek and Charlie Nikitas, two of the finest golfers, made their way through the Glenbrook South men's golf program and graduated in 2017, according to Head Coach Stephen Gale. Paek and Nikitas led the Titans to a third place finish in state last year, and both earned all conference honors. Although Paek and Nikitas went on to play at the college level, the men's golf team wasted no time continuing the success that Paek and Nikitas exemplified, according to Gale.
The Titans are led by the strong play of senior captains Brian O'Connor, Jack Grier, and Jarrett Prchal, who have all excelled in place of the former phenoms, according to Gale.
"Charlie and Kevin were unique," Gale stated. "They were a joy to have on the team, they were great team leaders as far as golf is concerned. We have not looked back, we have not broken stride, Grier has stepped up along with junior Jack Upperman, O'Connor, Prchal. These guys have all stepped up and are putting up some very nice numbers for us."
The Titans have adapted well to the departure of Paek and Nikitas, according to Prchal. The team has figured out who fits in each role, and what they need to improve upon, according to Prchal.
"It's been an adjustment without them," Prchal said. "Everyone is figuring out their place, and working out their consistencies so we have our best meets every day."
The Titans have played well against high profile teams, including Hersey and Loyola, according to Gale. The Titans' performance has led them to an 8-2 record, according to Upperman.
"We are 6-1 in conference," Upperman stated. "We beat Evanston on Sept. 14, and lost to New Trier by two strokes on Sept. 12."
After their loss to Prospect, the Titans played one of their best matches of the season against conference rival Maine South, according to Upperman.
"We went into the match focused," Upperman said. "It was at our home course, so we had the home course advantage. We just went out and played. We all fed off of the support from our teammate. We were all cheering each other on."
The Titans' match began with a crucial first hole, according to Upperman. Beginning the match strong gave the Titans momentum, explained Upperman.
"We started off with a par and had a nice drive on the fairway," Upperman stated. "We got on the green and two putted. That gave us confidence and we finished the round strong."
The Titans are looking to make it back to the state tournament, according to Prchal. If the Titans continue to improve, a trip to the state tournament seems likely, added Prchal.
"Our main goal is to make it back to the state tournament," Prchal said. "We have to continue to approach practice every day with a hunger to get back, and to get better because we can't just turn it on at the end of the year. It has to be a process, and we have to continually get better so our games are there when the time comes."
The Titans will compete next at the sectional meet on Oct. 9.