Women's Track sends athletes to State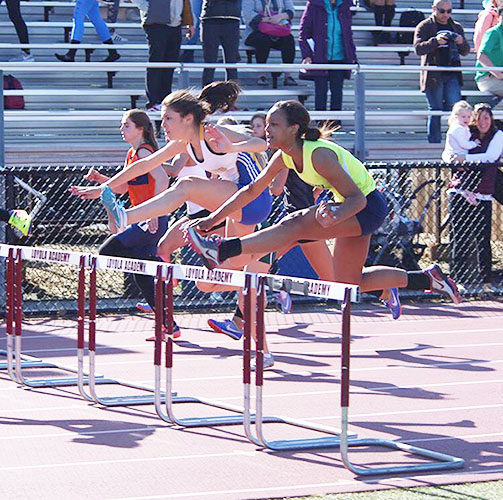 Coming off of the 2016 season, head coach Meaghen Fastert had high expectations for her first year leading the team, according to senior Amelia Papajohn. Fastert's guidance and leadership helped propel the Titans to a third place finish at conference.
A key reason for the Titans success has been Fastert's push for success, according to Papajohn. Fastert also wanted to develop a team that was more cohesive, according to Papajohn.
"She set the bar really high because we did really well last year," Papajohn said. "The goal was mainly that we were going to keep improving on our personal bests, and we are going to keep doing things as a team, she really emphasized the team this year."
Fastert says a strong team bond has also contributed to the success.
"They hold each other accountable in every sense of the word," Fastert said. "They are such a tightknit group of girls, they push each other and know each other's strengths and weaknesses, which makes the dynamic of the team more like a family."
The goal of coming together as a team has helped build cohesion and has helped the Titan's perform better in meets, according to Papajohn. According to junior Emily Noone, the girl's placed first at the Titan Invite and built on that success at the conference meet, finishing third.
"Our four by eight relay is really strong; that was actually the relay that we got down to state last year," Noone said. "That's something that we always have to help get us points for the overall team. Our four by four relay is also very strong."
Although the Titan's finished third in the Central Suburban League Conference, they still had some work to do according to Noone.
"Our four by four relay went really well," Noone stated. "We tried out a new strategy, and we changed the line-up a bit. I think the strategy did fairly well but we definitely have some work to do for sectionals."
At the sectional meet, the girls performed well and were able to send seven girls to the state meet, according to freshman Kate Jortberg. Jortberg explained how competing at state was not a goal at the beginning of the year but slowly turned into a possibility throughout the season.
"At the beginning of the season, I did not expect to qualify for state because I didn't really see myself having a lot of success in just one event," Jortberg said. "I improved a lot when we made the transition from indoor to outdoor track. My goals changed a lot from February through May."
The Titans wanted to improve throughout the season, and mostly the Titans met their goals, according to Jortberg.
"Mostly everyone did improve and even if someone didn't do as well as they liked they knew they worked hard and had fun," Jortberg stated. "A lot of people went to state this year, which maybe wasn't expected at the beginning of the season. The other distance girls and I worked on improving our times by making sure that we were pushing ourselves during practices and by having positive attitudes."
The girls concluded their season on May 20th at the Illinois state meet and look to build on their success in the future according to Jortberg.