Women's soccer attributes success to seniors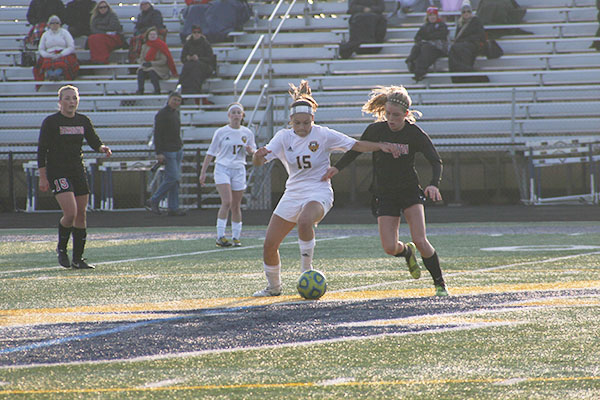 With a winning record of 5-2, the Women's soccer team's ability and chemistry on and off the field is stronger than ever, according to captain and defender Cassidy Price. Price emphasizes the importance of well-built dynamic with the help of leadership, especially when there are new players on the team.
"This year, it was really important for all the seniors to step up to the plate when it comes to being a leader on this team," Price said. "We have a lot of new girls, and it's important that we show them the ropes and set the tone for the team."
In accordance with Price, head coach Seong Bong Ha attributes a good portion of the team's success to the senior leaders.
"We had a lot of seniors that have been around the block," Ha said. "This year's leadership of seniors have done a tremendous job in teaching what our program has been all about, what the varsity team does to compete at the highest level possible."
As far as team chemistry goes, Price adds how the game against Maine South, one of their toughest competitors, showed their full potential as a team. The women played the Hawks on April 4, winning 1-0.
"Everyone really stepped up and got the job done [during the game]," Price said. "I was even nervous going into it, but when the game started everyone was giving 110 percent. We played hard and learned how good we could be if we work hard, and that's always exciting."
Similarly, Ha believes this game especially was significant because of how much the team discovered about their playing.
"Playing [Maine South] right out of the gates from spring break, it's a total unknown how we will come out," Ha said. "The crowd was amazing, the officiating was great, the match was electric. Both teams laid on the line, and we earned a hard fought 1-0 win over a quality opponent. We learned a lot about ourselves that evening."
In agreement with Price and Ha, senior captain and center mid Callie Pekosh deems that the team's hard work in practice has been paying off, most noticeably on April 13 against Barrington High School, despite the loss.
"[Our team] lost to Barrington 2-1, but we had a lead for the first half," Pekosh said. "When we scored, it was the most exciting goal. Everybody was up on their feet celebrating. We worked really hard, and the game showed us we have a good chance this year because they're supposed to be state champs or runner ups this year."
With that said, the Titans are also in the Inaugural North Shore Invitational, which is a tournament including the top three teams in state as well as other top programs in the area. Ha believes that this tournament will give the women tough competition.
"We definitely want to be playing our best soccer at the end of a tournament," Ha said.
According to Price one of the team's main goals is to do well in playoffs, and in order to do so, practicing is essential.
"Pushing each other in practice will be key to doing well in playoffs," Price said.
The next time the women will be on the turf is April 24, where they will take on Mundelein.