Girl's lacrosse looks to place at state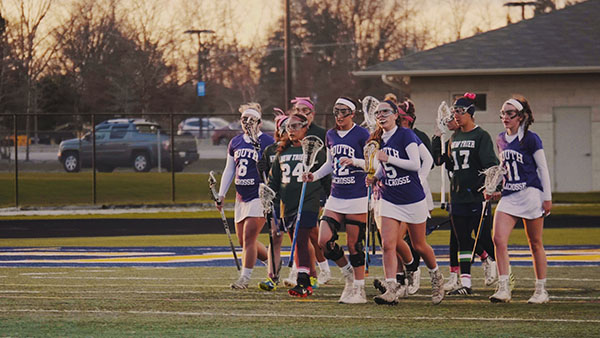 The GBS women's lacrosse team is back on the field this spring, following six consecutive Sectional Championships in 2011-2016.  The Titans travelled to California over spring break where they faced tough lacrosse competition, according to head coach Annie Lesch.
"When we were out in California, in our very first game against Cathedral, we were up 8-4 at halftime," Lesch said.  "We looked unstoppable.  In the second half, attack and defense totally lost it and weren't playing to their potential."
Although the team was winless on the trip, captain Sophie Hensley believes the trip was beneficial to the team's chemistry. According to Hensley, the team participated in a hike and a trip to San Diego State University to visit lacrosse alum Sarah McDonagh.
"We did activities besides lacrosse which really helped us with bonding," Hensley said. "The team chemistry is awesome this year.  Everyone got to know each other better, and it's really nice to have that stronger bond; it builds a better team and family."
Similar to Hensley, captain Lindsey Karsh attibutes the team's closer bond to their trip to California. According to Karsh, since they've been back, she feels as though they are more of a family than teammates.
"At the beginning of the year, we were a little distant with each other, but after California like every year, we get instantly closer and feel more like a family," Karsh said. "California brings us together and forces us to work with everyone."
The team certainly has the skills to compete with anyone, according to Hensley.  While winning is always a team effort, Hensley named a few players vital to this year's success.
"We have a great group of sophomores [this season]," Hensley said.  "Grier Birely scores a lot of goals, and Mary Grace Reynolds is a great defender.  Also, Karsh is a great team player. Those three players are awesome on the field together."
Lesch added that each player knows what they are supposed to do on the field and is working hard to make the team better.
"Everyone knows their role on the team," Lesch said.  "They're comfortable with it and ready to do what's best for the team, as opposed to what's best for themselves.  We've seen glimpses of how well they can play."
For Hensley personally, she sees herself as a leader both on and off the field.  Along with fellow captains Linsey Karsh, Eleanor Walsh, and Annie Morahan, Hensley feels she has created the right atmosphere for her teammates.
"Each Captain leads in a different way," Hensley said. "I think that I bring a lot to the table in regards to lacrosse off the field. It's nice when people feel that they can come to me. I can talk to them about other things besides lacrosse, and I think I'm a good person to be that support system off the field."
Both Hensley and Lesch have noted that the team has had struggles with confidence on the field early this season.  In response, Lesch has initiated a visualization program before each of the Titan's games.
"Our visualization is like meditation," Lesch said.  "The breathing and relaxing [aspects] are definitely there to enhance their confidence.  I'm always telling the girls that you'll feel confident if you've done everything in your power to prepare for the game."
In agreement with Lesch, Karsh believes the visualization process boosts the team's competance in a positive way.
"Before every game, Lesch does visualization [and she] turns off the lights and tells us to close our eyes and just focus on the game," Karsh said. "I think this really gets our team pumped and focused for the game."
Although the season has began slower than expected, Lesch is not lowering her expectations in the slightest.  She still believes the girls have what it takes to be one of the best lacrosse teams in Illinois.