Spring Sports Preview 2017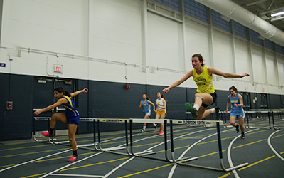 Men's Track & Field 
Key Players: Jack Whetstone, Jack Kelly, Jordan Theriault
2016 Record: Placed 3rd in CSL meet
The men's track and field team looks to build off their strong 2016 season by finishing in the top half of conference and advancing several individuals to the State meet. According to senior runner Jack Whetstone, the team is looking to really improve in all areas of meets and use runners like junior Jordan Theriault and senior Matt Jortberg to help the team score points at big meets. Whetstone also believes the underclassmen on the team will help the team as a whole while also building up skills for seasons to come. Senior pole vaulter Jack Kelly is sure the team will be able to improve this season despite the loss of last year's strong senior class. Today marks the day of the CSL Indoor Conference meet, a meet Kelly says will give the men determination to do their best based on the fact that their outdoor season immediately follows spring break. The men hope to use last season's record as motivation to run better and pace themselves for improvement throughout the season.
Men's Water Polo  
Key Players: Jack Wells, Tucker Nienhaus, Brendan Chang
2016 Record: 27-6
This year, the men's water polo team looks to redeem themselves after losing to New Trier by one point, which lost  them their spot at the State Final. According to head coach David Lieberman, several important players graduated last year, so the team is looking for younger players to step up and fill those roles. Lieberman also noted that he would like the team to stay competitive and work on speed. According to senior captain Jack Wells, the captains would like to implement strong team bonding to help the chemistry on the team and help the men grow from their past mistakes. Going into the season, Lieberman said that he wants the men to have fun, but when Conference comes, they must be ready and equipped. Wells and Lieberman are looking forward to a fun and eventful season whether the team makes it to State or not.
Women's Soccer 
Key Players: Callie Pekosh, Lily Sands, Cassidy Price
2016 Record: 20-3-2
After a loss in the Sectional Semifinals last season, the women's soccer team is focusing on having an strong season under head coach Seong Ha. Despite the loss of 2016 seniors, the team is looking to become a very powerful force, according to senior Callie Pekosh. Throughout the offseason, the team has been playing club soccer outside of school or playing other sports at Glenbrook South to keep their skills and stamina up, according to Coach Ha. According to Ha, senior Lily Sands is going to be a prominent player on the team this year, having finished last season with 18 goals and 11 assists for a total of 47 points. The team will kick off their season on March 14 at Jones College Prep.
Men's Volleyball 
Key Players: Nic Cavallaro, Myles Engel, Jack Sullivan
2016 Record: 15-18
The 2017 men's volleyball team hopes to build on their momentum from last season and continue to gain experience on the court for the team's new players. Head coach Tim Monahan hopes the men will use their varsity experience to obtain wins every time they take the court. According to senior Nic Cavallaro, the team is looking to redeem themselves from last season's loss to New Trier during the Sectional Championship game. The men hope to win Sectionals this year with help from strong sophomore players, Jack Shampine and Thomas Cavallaro. According to Monahan, the two underclassmen are expected to help the team out on the court and turn some heads. Monahan believes with the team's strong senior leadership from Nic and Jack Sullivan, the men will work harder to push themselves for wins on the court.
Women's Lacrosse 
Key Players: Lindsey Karsh, Ellie Kahle, Kate Brennan
2016 Record: 14-8
After a 5th place finish last season, the women's lacrosse team hopes to improve on their record and move up in the rankings. According to senior captain Sophie Hensley, the team hopes to build up confidence within their younger players to ensure successful seasons in the future. Hensley also hopes to keep motivation as a strong principle of the team, so they can get better as a whole. The team has a few sophomore players including Mary Grace Reynolds, Kate Brennan, and Greer Bireley who are all expected to be a major presence on the field. The women hope to rank in the top four of their league by beating Maine South, who the Titans lost to in their 2016 season.
Men's Tennis 
Key Players: Bryce McClanahan, Michael Bukhalo,
                    Sebastien DesRoberts
2016 Record:  2nd in Conference and 4th at Sectionals
The men's tennis team is looking to have a strong lineup for the 2017 season. According to senior Bryce McClanahan, the team hopes to have players working to the best of their ability to create the strong team they're looking for. McClanahan believes sophomores Michael Bukhalo and Jack Upperman will also help the team achieve their goals. According to junior Ethan Sawyer, the team will especially focus on their match against New Trier, based on the fact they are consistently one of the top teams in the state. Aside from the underclassman on the team, doubles team Sebastien DesRoberts and Rohan Gupta are expected to continue their success from last season and ultimately use last season's State matches to carry them into this season. The Titans hope to take their experience with stress and success from last season and use it for motivation moving forward.
Women's Track & Field 
Key Players: Emily Noone, Lauren Hayes, Amelia Papajohn,       
                    Kate Jortberg and Bailey Smith
2016 Record: Ninth place at Sectionals
According to head coach Meaghan Fastert, the women's track team has been working hard through the offseason for the long 5-month season ahead of them. According to freshman Kate Jortberg, the team has a goal to not only improve their times but to become more confident in their running and to possibly send some runners to State. Fastert hopes that the girls can meet the goals they have set and feel challenged with their running abilities at meets and practices. Key members of the team this season include junior Emily Noone, sophomore Lauren Hayes and senior Amelia Papajohn, who were three of the four girls who ran the 4×800 meter relay at state in 2016. Jortberg and freshman Raelyn Roberson are some new additions to the team this year who have brought some fast times to the team in their first few meets, according to Fastert. The team's next meet, the GBS Quad, will take place in the GBS fieldhouse on March 20.
Softball 
Key Players: Carolyn Kuhn, Julia Sultz and Maddie Yoo
2016 Record: 2-8 in Conference
After Kay Sopocy, former head coach, retired last year, Dana Boehmer has filled her place as the new head coach and she hopes to lead the softball team to a sucessful season. According to Boehmer, this year's two main goals are to have a winning season and for the girls to improve throughout the season. Boehmer emphasized that this year's main focus is mental game, which will be stressed throughout the season. According to senior Carolyn Kuhn, an Indiana University softball commit, mental game is very important, and the ability to bounce back from mistakes is key in being a successful softball team. Boehmer said that this team is going to be relatively young, because there are only three seniors, but having strong senior captains is going to be vital going into the season. Boehmer and Kuhn are hoping for a positive experience from this season and for the girls to push themselves further than last season's finish.
Women's Water Polo 
Key Players: Kelly Klish, Maddie McMillin, Genevieve
                    Thompson and Bella Del Muro
2016 Record: 15-10-1
The women's water polo team looks to their strong senior leadership to guide the team through the 2017 season. According to head coach Mike Stancik, the team became more competitive last year than in years past, and he hopes that this season is not only fun, but a winning one as well. Stancik also said that four strong seniors graduated last year, so the seniors this year will have to step up and lead the team. According to senior captain Kelly Klish, having a strong bond in the team and identifying teammates' strengths and weaknesses will help the team improve from last year. According to Stancik, dedication and commitment are just as important as wins and losses. Both Stancik and Klish admit that they would like to beat GBN, but this season is more focused on improvement than wins and losses.
Men's Gymnastics 
Key Players: Jacob Fine, Lucas Pauker and Michael Parlich
2016 Record: 7-2
After a successful season last year, the men's gymnastics team is ready to improve their record and get some gymnasts to the State Final. According to head coach Brandon Tucker, there are eight returning seniors that will carry and lead the team to victory. Senior Jacob Fine said that through hard work and conditioning,  the team has a good chance of making it to State. According to Tucker, there were many injuries last year that impacted the team greatly. Tucker emphasized that this upcoming season should not only be focused on winning but improving and staying healthy with limited injuries. According to Fine, the men started training and conditioning in the fall, which provides a strong team bond that will carry onto the season.
Baseball 
Key Players: Brett Borre, Cam Pauly and Jeffrey Mitchell
2016 Record: 12-17
The 2017 baseball team is hoping to bounce back from last year's record and compete for a Conference title. According to head coach Stephen Stanicek, the team will be looking to new arms to take the mound this season after the Titans lost three top senior pitchers last season. According to Stanicek, the team will be focusing on their defense and pitching lineup this season, as juniors John Miskella, Jacob Newman and Brooks Appelt are expected to supply strong innings on the mound. Senior Jeffrey Mitchell believes the team will be better this season based on the dedication and hard work the players have put in during the off-season, while also sharing the common goal of achieving more and working harder. The men hope to make a run at playoffs and may do so with the help of sophomore newcomers Nick Mathein and Brandon Matias, according to Mitchell. According to Stanicek, the Titans will need the newcomers to step up to the plate to help ensure some wins for the team.
Badminton 
Key Players: Erin Jang, Evelyn Krasnik, Maddie Lee and
                    Nina Tojo
2016 Record: 7-3
After finishing 2nd in Conference at the end of last season, the badminton team is hoping to send some players to the State competition this year. Head coach Teresa Kimura hopes to continue making badminton a positive experience for her players this season. Throughout the offseason, players have been going to open gyms at South, and some went to badminton camps in Schaumburg, Westmont and at Eastern Illinois University. Influential members of the team include juniors Erin Jang and Evelyn Krasnik, among others, who Kimura says are very dedicated to their sport, making the team easy to coach. According to Kimura, the upcoming season will hopefully bring some competitive matches within the Conference. The badminton team will attend their first invite, the Buffalo Grove Invite, this afternoon at 4:30 p.m.
Men's Lacrosse 
Key Players: Jack Speers, Alex Ferrone, Jack Carasotti and
                    Harry Panagakis
2016 Record: 10-9
After more than half of their roster graduated last season, the men's lacrosse team's focus this season will be off the field, according to head coach Will Jeffery. They plan to build character and leadership as well as improve their lacrosse skills, Jeffrey said. The final game of the 2016 season did not show the high note that Jeffery felt the team ended the season with, and the team is looking to have a stronger end to the season this year. According to Jeffery,  junior Jack Speers and senior Alex Ferrone will lead the young team due to their high level of skill and improvement in the offseason. According to Ferrone, there will be a few freshmen on varsity this season because they have shown that they posess the talent and skill that it takes to play a high level of lacrosse. The team's first game will be on March 18 at New Trier.