Men's swimming takes 7th at state meet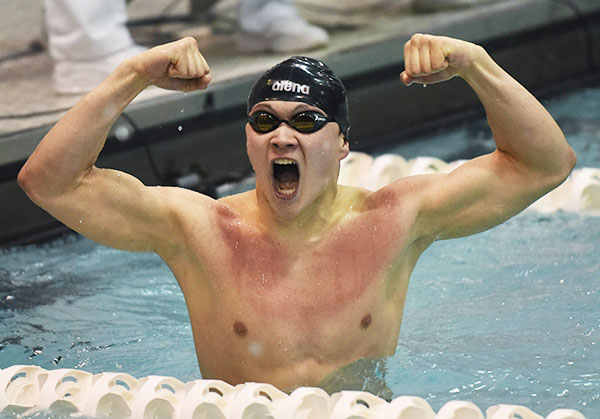 The men's swim and dive team placed 7th in the IHSA state championship on Feb. 25 at New Trier High School, the team's highest finish since the 2014-2015 season in which they finished 3rd. Head coach Keith MacDonald, who expressed high expectations for the team throughout the season, was impressed with the Titans' state performance.
"We thought we were a top 10 team, [so] we were quite pleased with [our finish]," MacDonald said. "Our relays did what they were supposed to do, and we had some really good individual swims.  Sam [Iida] was spectacular."
Sam Iida, a fourth-year varsity swimmer, took home two individual state championships, in the 200 meter Individual Medley (IM) and the 500 meter freestyle.  According to Iida, despite the pressure of the meet, he was calm and collected throughout his race.
"I wasn't that nervous," Iida said.  "I knew that I was going to go fast, and I wasn't worried about what place I finished; I was worried about racing the guys next to me.  It was all about shutting everything out, swimming my own race and just going for it."
Iida not only claimed his two individual State championships, but he also solidified himself in South swimming history.  His time of 1:46.02 in the 200 meter IM set a new school record, just two hundredths of a second behind his preseason goal of 1:46.00.
"It was a little surreal," Iida said.  "It was great to see all the work I put in this season show up in the end.  When I set a goal and can come that close to it, […] I understand my own abilities and I know what I can do."
Iida broke the previous 200 IM State record of 1:48.08 set by Jake Miller of Normal- U High in prelims on Friday with a time of 1:47. During finals on Saturday, Iida broke his own State record with a time of 1:46.06. Iida also won the 500 yard freestyle with a time of 5:23.63.
"[After the 500] I felt an insane pain, but once it subsided I felt extremely relieved because I had been preparing for that all season," Iida said.
With a chance to perform at State in the back of the Titan swimmers' minds throughout the entire season, Iida and the seniors pushed hard through the workout months.  Iida credits both the intense physical and mental training for the Titans' impressive State finish.
"Throughout the season there were times when the whole team was tired and worn out," Iida said.  "The seniors really stepped up.  This [training] is all for something in the end, and you just have to push through now, because you will get a better reward than you ever have before."
According to senior Chad Spalding, who received the GBS Booster Club "Titan Senior Award" for outstanding achievements in both the pool and the classroom, he saw all of the team's hard work finally pay off at the state championship.  Despite not qualifying for the competition himself, Spalding was enthusiastic about his team's performance and their bright future.
"Seeing these guys swim with all they have at the state meet was incredible," Spalding said.  "I trained with them all year, and I knew from the start that they would swim outstandingly, but I was amazed at how well they did. I look forward to seeing how the younger guys develop in the next couple of years."
Among the seniors moving on from the program next season, most notable is Iida, a University of Arizona swimming commit.  Despite the difficult competition ahead, Iida is ready to take the next step in his already-decorated swimming career.
"It's a different animal," Iida said.   "I go from training twice a day three times a week here, to training twice a day every day [at Arizona].  It definitely takes a greater mind to do that.   I'm up for the challenge, and I know that I'm going to be able to perform my best as long as I stay focused and stay hungry every day."