Hartley sisters continue to inspire each other in gymnastics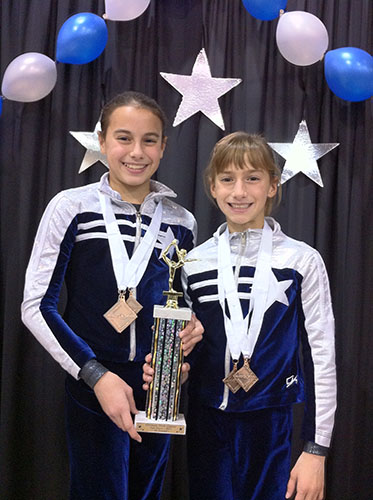 While most South students get ready to go on vacation for spring break, senior Hannah Hartley and her sister, freshman Jenna Hartley, get ready to hit the gym for a week's worth of gymnastics practice. Jenna and Hannah are representing South's varsity gymnastics team this year.
According to Hannah, her and Jenna both started gymnastics at the age of three because their mom, Marci Hartley, was a gymnast throughout high school and college. Though their mom was the reason they started competing, Hannah says they do gymnastics now because of their love for the sport.
"I had a lot of energy when I was little, and my mom did gymnastics in high school and college, so my parents put me in it," Hannah said.  "I think [my mom] was the reason why we started [gymnastics]. But as time went on, our parents left it open to us, saying, 'You don't have to continue if you don't want to, but if you like it you can.'"
Jenna and Hannah both agree that doing gymnastics since they were little has brought them closer together. According to Jenna, having an older sister who does the same sport is a great way to improve her skills, because Hannah is always there to help her.
"[Hannah] always encourages me to try new things, and sticking with gymnastics is one of those things," Jenna said. "If there's ever a time that I need help with something, she'll give me corrections on skills, or she'll cheer me on. There are times I wish [Hannah] wasn't there, but most of the time she's really helpful. She understands me better than anyone, so it's nice to have her there."
According to head coach Steve Gale, Jenna and Hannah are both strong in all four events, but their highest scoring event is vault. Gale believes that Jenna has taken well to entering high school and being on varsity, while Hannah has emerged as a role model for not only her sister but the entire team.
"What [Hannah] does speaks so much louder than what she says," Gale said. "She's a hard worker, [and her] work ethic is an example to the rest of the team. When they see the best girl on the team working [hard], that tells the rest of the team very loudly and clearly that that's what they have to do if they want to have that kind of success."
According to Jenna, Hannah pushes her, and she loves being able to watch and compete with her sister.
"It makes me feel so good after I'm done competing in an event, or after she's done,  going up to each other and congratulating and hugging each other," Jenna said. "It makes me feel really good that she supports me."
According to Marci, her proudest moment of Hannah and Jenna since they've started at GBS is watching them bounce back after several injuries, and take first and second place in the all around at the Spartan invitational. Before they were in high school, Marci says her proudest moment was when they won State at the ages of 12 and 15 with their club teams in the all -around.
"[Watching them is] thrilling," Marci said. "Just seeing their hard work pay off, is exciting [and] emotional. I [cried] tears of joy."
Hannah's favorite part of having Jenna on the team is being able to be together after a meet.
"Obviously the whole team cheers super loud, but when Jenna goes out there I cheer a little louder because she's my sister, and no matter what happens, we're proud of each other, and we're just happy that we're out there able to compete for GBS," Hannah said.