Cheer adjusts to new level of competition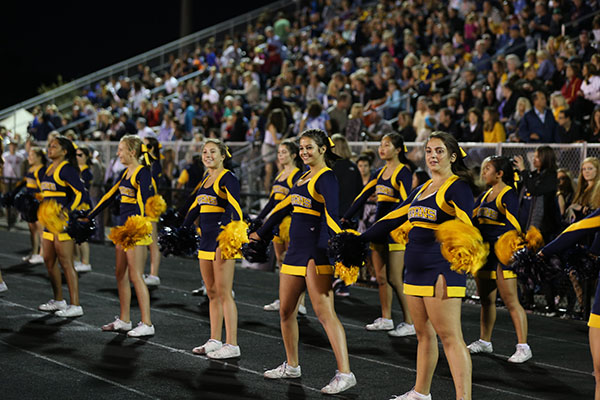 The GBS varsity cheerleading team started off their competition season strong and persevered through challenges, according to head coach Jason Powell. Powell also noted that the team has been doing well in their competition season and also at the men's basketball games.
Robin Schroeder, assistant varsity coach said, "Varsity is doing well. As we compete more and more, we are getting stronger each time, and we ended up taking fifth at the conference, which was really great. We have one more competition left in our season, which is our sectional, which will determine who goes to state."
According to Powell, it has been a long season and there have been obstacles throughout the year, but the cheerleaders overcome and push through to be the best they can be whether it be at a competition or on the field or court.
"The season has definitely had its ups and downs," Powell said. "An upside is that we are an activity that participates with other sports at one part of the season, but then we're competitive in our own sport during the winter. I think that the focus sometimes between the two things can get a little spacey, but when they pull together and work together as a team then it gets pulled off."
According to senior Angie Robinson, practices, competitions, and games have brought the team closer together growing as one cohesive group which allowed them to grow closer together as a team.
"We have had our good moments, and we have had our bad moments, but I guess we are learning and growing as a team now," Robinson said. "Getting to know everybody and know what they're good at and what they're not good at to change and to make sure we can do our best out there."
This year, the Titans changed divisions at competitions because the team is coed. The team gets scored in a different category than previous years, and it is a more competitive division, according to Schroder.
"This year is our first year [being] coed, and having males on the team has definitely changed the dynamic a bit," Powell said. "The guys are both learning a lot, but at the same time they are very motivating."
Despite having a different team from years past, the team has come together and shown improvement throughout the season.
"We just had a time with varsity where things really started to click, and we shifted from being a team to being more of like a family," Schroeder said. "I think that during the time that you spend together, every practice almost everyday […} throughout the season, you start to see a shift that we aren't just teammates, we're this connected family."