Women's swim & dive finishes season with three State qualfiers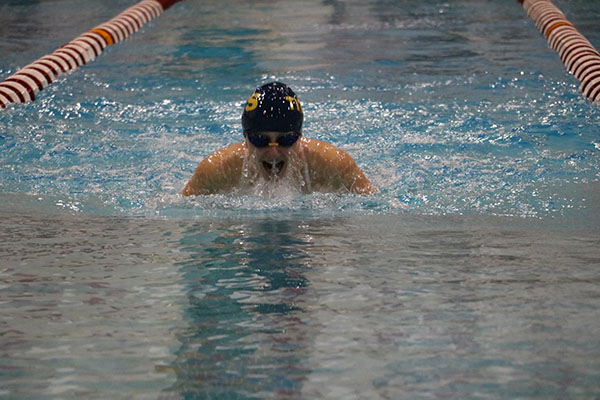 With three state-qualifying swimmers, the Girls' Swim team finished their season strong, according to head coach Keith MacDonald. Sophomore Alex Dimarco qualified in diving, freshman Alexis Kachkin qualified in the 50m freestyle and sophomore Kate Solem qualified in the 200 yard freestyle and the 500 yard freestyle, according to MacDonald.
MacDonald credits the team's performance at Sectionals to the their victories versus GBN, Maine South and Evanston. These three dual meets gave the girls they the excitement they needed to perform well in their postseason, according to MacDonald.
"We had [three] really exciting dual meet [victories versus] GBN, Maine South and Evanston," MacDonald said. "All three of those teams are pretty equivalent to us talent-wise, which made it [an even better] experience. Those [meets] were [really] stepping stones for the rest of the season—the championship season."
Kachkin in the 100m freestyle race and the 200 yard freestyle relay consisting of Kachkin, sophomore Catherine Devine, senior Allison Wyland and senior Samantha Casey, both barely missed the state qualifying times, according to MacDonald. Despite missing state by fractions of a second in a handful of events, MacDonald says he is very proud of the girls' performances at sectionals this year.
"Of course, there's anguish [seeing] a time up on the scoreboard [that's] barely [missing] state qualifying," MacDonald said. "One of those girls [in the relay, Kachkin], was already going [to state], but the other three then were unable to move on to state so that's tough to see. However, we had a great meet [at Sectionals]. We qualified three girls for the State meet and overall had some tremendous performances."
The seniors of this year's team really helped create a team dynamic, according to MacDonald. MacDonald says this contributed to the team's successes at regionals and at state.
"The seniors really stepped forward this year and did a nice job," MacDonald said. "It was a very big senior class this year. [There were] seven [seniors] on varsity and seven on junior varsity, so it was nice to have that leadership spread throughout [each of] the teams. [I was…] able to rely on these girls to have a positive direction for the team so in that sense the dynamic was a lot different from last year [with the higher amount of seniors]."
The positive team dynamic translated into ample support when it came to the Sectional and State meets, according to MacDonald. He says the supportive environment was very helpful to the competitors. Even though swimmers in the postseason were focused more on their individual achievements and aspirations, the whole team was still there to support them, according to MacDonald.
"You don't advance as a team, you advance as individuals [or as relay teams]," MacDonald said. "Overall, it's a bit individualistic. […] Everyone's there to achieve their own personal goals in their own personal events. [However,] we're [still always] there to support each other."
Wyland also found team support and dynamic to be an essential piece to the team's success. The experience of being a senior and a leader this year for the team was new, but also very enjoyable, according to Wyland.
"It's a different perspective being a leader this year," Wyland said. "It's my last season and I know I'm not going to continue swimming after this, [but I still] wanted to have a nice, [memorable season]. It has been a really enjoyable experience."
The team dynamic this year, according to Wyland, was also much different than in previous years in a positive way. Wyland says she credits this to the high number of seniors and the larger practice groups.
"This year we had fourteen seniors, which was a lot more people than before to [carry] the burden, [but] everyone got to participate [as a leader]," Wyland said. "[In fact,] it was easier with more people to lead the team. This year we were [also] a lot more together as a team because [we had two] training groups instead of [three]. Since they were bigger groups, people got to swim with each other in practice and get to know each other better, [which lead to] a lot more of a cohesive team."