Sarah Wojick commits to Miami University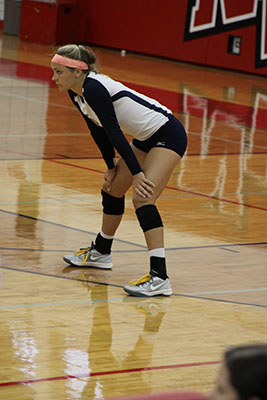 She is one of a kind. She grabs your attention. She is aggressive. She is varsity  volleyball player, Sarah Wojick. South's key player has been on the varsity team since her sophomore year. Now a senior committed to Miami University, Wojick leads the team on and off the court as a Team Captain and their outside hitter, all according to her head coach Kelly Dorn.
"She brings an energy level that is like none other," Dorn said. "She gets excited. When she does get a kill, when she does [anything on the court], she [keeps] the team's momentum going."
Wojick's volleyball career began in fifth grade after a neighbor invited her to play for a Glenview park district team, according to Wojick. She took her newfound passion and ran with it; trying out for clubs, participating in clinics, and playing for her Springman Middle School volleyball team. Wojick believed she had fallen in love with the game.
Her passion for the team has helped lead them in their eight wins and only two losses this season. According to Dorn, outside of her highly skilled plays (with 240 kills this year), she is always the first to start cheering on her teammates. Wojick acts as a big sister for team and somebody in the program for younger players to look up to, Dorn said.
"As a player, the word I use to describe her [is] dynamic, in [both] her playing, her celebration and just her personality," Dorn said. "She's unique, she's one of a kind, she's attention grabbing, really positive, and really fun to watch."
Hours playing for South's team as well as an outside volleyball club in La Grange, Illinois known as First Alliance has paid off. Wojick is currently committed to Division I school, Miami University. According to Wojick, playing volleyball in college has been a dream of hers and she looks forward to playing next fall.
"I am hoping to play [next year] but I understand being freshman you won't be able to get as much playing time," Wojick said. "But I am just excited to be able to carry on my dream of playing and so excited to go college."
The girls volleyball season ended with a loss against some of the top teams in the state as well as Wojick's high school career. She recalls some of her favorite memories that she and the team have shared. One specifically being dancing to team's favorite dance, "Juju on That Beat."
"Working, playing, and having fun together as made the team more like a family," Wojick said. "Our team has so much fun. It's so nice and everyone gets along and laughs. Some days we all have off days and we all aren't doing well, but other days we are all just the happiest people and love playing with each other."