South Hockey loses to rival GBN in seasonal game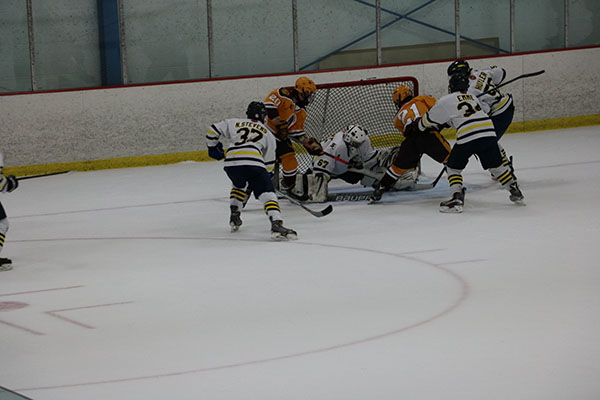 Hang on for a minute...we're trying to find some more stories you might like.
The GBS men's hockey team holds a current record of 3-11 and hopes to learn from their early season losses according to Joe Emme, senior captain and right wing.
Both Emme and Thomas Lundal, junior right wing, agree the team had a shaky start to the season due to a lack of practice and new player chemistry, but know the team will progress nicely with more experience.
"Chemistry is important especially on a team like ours, because once everyone feels comfortable with each other and we all know each other's weaknesses,  we can come together as a team and help [each other] out," Lundal said.
Lundal also believes that the 10 seniors on the team have been helping guide first year players to improve and strive for better game outcomes.
"We have a lot of varsity experience on our team," Lundal said. "Our seniors know the most about the game because they've been at the level for a longer time, [so] they are good at helping out younger players […]. I would say from watching the first year players from the beginning of the season and comparing how they play now, they've changed a lot mentally and physically [with] the help of the seniors."
With that being said, Lundal hoped they could use their senior talent to redeem themselves against rivals Glenbrook North. The Titans recently took on the Spartans at the annual Thanksgiving game where they lost 7-4. According to Emme the men gained major momentum during the 2nd period of the game but later lost it at the start of the 3rd.
"The first two periods we were animals [on the ice]; we out worked them and we were putting pucks in the net," Emme said. "Our team was pumped, and all the South fans were ecstatic."
Emme attributed the loss against the Spartans to a change in momentum between the 2nd and 3rd periods of the game.    According to Emme,   this is the time where the team would regularly lose confidence and energy.
"We didn't start off the 3rd period strong and that is what hurt us," Emme said.
In contrast to their loss against the Spartans, the Titans recently traveled to Jamestown, New York, where they had a 2-1 tournament record. They had a tough first game at the tournament, but they later used that as motivation to do better according to assistant captain Jeffery Mitchell.
"We came out slow, and the other team got on us quick […] more goals started to pile up, and it ended with us losing 12-2 [ …], we all knew that we couldn't let that happen for the next two games so we recuperated that night," Mitchell said. "The next game we played a lot better, and we ended up winning 4-3 in overtime."    
In addition to the overtime win, the Titans went on to win another game (3-0) against DeMatha, which Mitchell said really got the team excited considering they lost their first game.
The Titans, according to Mitchell, attribute their style of play to their coaching staff, who treat them with respect and build up their confidence level on the ice.
"There are situations where we are playing well, but we just can't [be perfect]," Mitchell said. "[The coaches] are more understanding and keep pushing us. Most other coaches that we play against are either screaming till they're red in the face or won't say a word. This was probably most apparent in the North versus South game."
Moving forward, Mitchell says the team is preparing for playoffs by concentrating on all upcoming games and making sure all the players feel confident going into them. The trio agreed that the team is working towards winning as many games as possible and ending the season on a positive note.
"[We] need to be treating these regular season games as playoff ones, and use them to be practicing what we need to get better on, [so] we can go into playoffs well prepared and hopefully make a run at State," Mitchell said.
The Titans play next against Fenwick at home tonight.