Men's swim & dive hopes to keep up winning momentum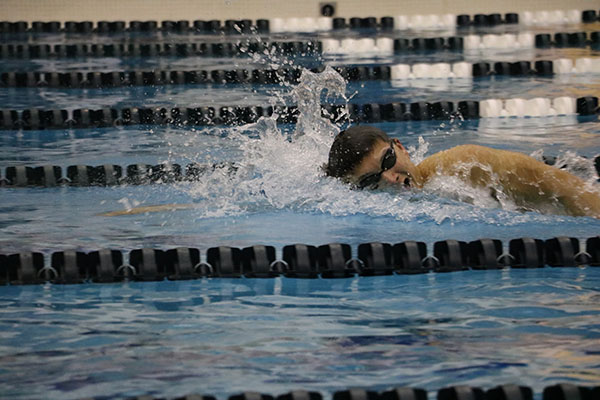 The GBS men's swimming team is preparing for another run at the State Championship this season, according to head coach Keith MacDonald. The Titans still have high expectations for themselves, despite five state-finalist swimmers graduating last spring, according to MacDonald. The Titans also beat GBN in their first home meet on Dec. 9.
The Titans started their season with the Deerfield Invite at Deerfield High School Dec. 2 where they placed first out of seven teams and beat rival New Trier. The Titans' relay team comprised of senior Sam Iida, senior Bryan Lee, junior Nick Shectman and freshman Adam Zuiker beat New Trier by over three seconds in the last event, the 400 freestyle relay, with a time of 3.20.59.
"It was insane," Iida said. "After that last swim on the relay, we just lost it. For how tired I should have been [from swimming], I was not tired at all."
MacDonald expressed that the team has the ability to compete at a high level, with a few swimmers leading the pack.
"I'd like to think that we're a top ten team in the state," MacDonald said.  "We've got a very talented person leading us into [the season], Sam Iida, and we've got some really talented people behind him as well.  [Senior] Joe Park can contribute in many areas.  Junior Nick Shectman has also really improved over the last few years, so we're looking for a huge year from him."
MacDonald, who recently named Iida as the team leader, knows he can count on the four-year varsity swimmer to perform at his best.
"Sam Iida is one of the best swimmers in the state, and really one of the best in the country," MacDonald said.  "The last couple years, he's been able to just sit back and train real hard like he always does.  [This year], not only does he have to work hard and train well, he has to be a leader and work with the other seniors to provide leadership for the entire team."
Although expectations are high on Iida, he said he's not feeling any pressure on his back to live up to the hype.  The University of Arizona swimming commit described his leadership as somewhat indirect in manner, but knows his presence will be felt.
"Having the name and the track record that I have, people [do] look up to me," Iida said. "I have to just lead by example. I try to focus on how I can improve myself, because if I do that, hard work will go down the rankings and everybody will be working hard."
Iida emphasized his strong relationship with MacDonald, highlighting his confidence in MacDonald's ability to lead the team to success.
"We can trust [Macdonald] as a coach; he's had more experience with swimming than all of us combined," Iida said.  "When we need to work, 'Mac' can count on us to put in all the effort we have."
Last season, South's rival, New Trier, defeated GBS 106-80 in the dual meet and finished five spots ahead of South at the State meet, according to MacDonald. The Titans beat all the other teams in their Conference, and Macdonald believes this trend will continue.
"We have a strong team that will perform well in the dual meets and the invites throughout this season," Macdonald said.  "New Trier [is our toughest opponent].  They're a very talented team."
On the diving side of the team, three divers graduated and there are only two returning divers, senior Brendan Fontillas and junior Jack Grier,   this season, according to diving coach Laura Duffy.
"Brendan Fontillas is a four year diver, he's a senior this year, so I'll be looking to him to lead in a big way," Duffy said.
According to Duffy, Fontillas has been working very hard during the off-season, and is trying to improve by adding more degrees of difficulty to each of his dives, giving them more value. Fontillas said that his long term goal is to qualify for State.
"Being the only senior diver, I'll have to help a lot of the younger ones adjust to the sport," Fontillas said.
According to Duffy, If the team keeps a good attitude and enjoys diving, her team will succeed; she is optimistic about this upcoming season.
The Titan's next home meet is against Highland Park on Dec 16. The team will also face off against New Trier in a dual meet at home on Jan. 6.