College Athlete Update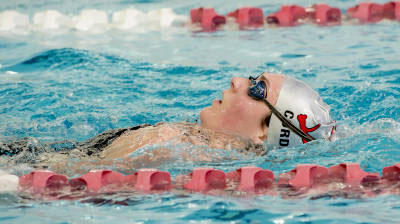 The Oracle's Q & A with South alums who participate in Division I college athletics.
Kelly Cordes, 2015 South graduate, is in the middle of her swim season at Fairfield University. During her freshman year, she was named the Fairfield University Female Freshman of the Year and set a school record in the 500 yard freestyle with her time of  5:04.53.
Q: What is your favorite memory from last season?
A: My favorite season memory from last season was getting a school record at our conference meet. Also, our training trip in Hawaii was a blast.
Q: What is a piece of advice you would give to South athletes?
A: I would take advantage of the resources you have to make yourself the best athlete you can be.
Q: How did this past season go?
A: I was pretty content with how my first season went. I got one of my best times and placed well in my events.
Q: How did South sports prepare you for your college career? 
A: The level of training I did in high school helped me prepare for being a D1 athlete. The practice schedule is similar so it's not anything I'm not used to.
Q: How is college swimming different than high school?
A: I think college swimming is a lot more fun. You have a huge team that you're very close with and you have more perks in college such as free gear, athlete priority/recognition and my favorite part: training trips!
Q: What are your goals for this season?
A: My goals for this season are to move up in conference as a team and individually. I also hope to get the best times in everything I compete in.