Women's swim & dive conquers GBN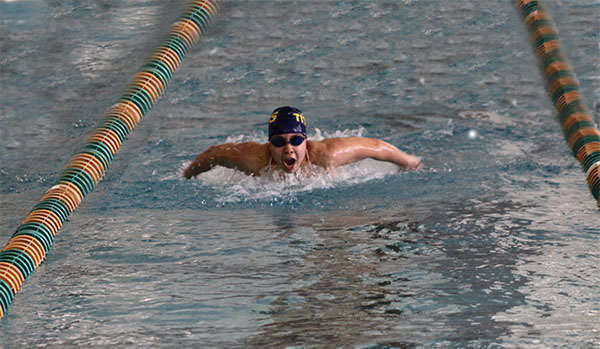 The GBS women's swimming team, led by head coach Keith MacDonald, kicked off their season with a 4th place finish out of 13 teams, at the Lake Forest Invitational. The team has a current record of 2-1 and hopes to progress throughout the season and ultimately do their best at their final meets, Conference and Sectionals, according to MacDonald.    
"Our ultimate goal is to swim fast [and] dive well at our last meets," MacDonald said.
Other than Conference and Sectionals, MacDonald believes their most anticipated dual meet of the season was against rival Glenbrook North.
"They are a very comparable team to us," MacDonald said. "It [was] a good indication of how we're doing and how the season is going."
According to MacDonald, throughout the whole GBN meet the two teams were going back and forth, but in the end, the Titans pulled in front of the Spartans during the 500 yard freestyle event.
"Kate Solem and Bella del Muro both had tremendous swims," MacDonald said. "[Then] Solem won the 500 [yard freestyle] by pulling away from the [GBN] girl at the end, which was really exciting."
Senior Sam Casey also agreed that the meet was a key one for the team, and it was an important win for the Titans. The meet was an exciting one for the team especially because it marked a shift into sprint training for the team, according to Casey.
"It was kind of tight at first, and before diving we were tied," Casey said. "Some of our swimmers that we thought were going to win didn't end up winning, but we all worked together and ended up pulling out the win in the end."
According to MacDonald, the Titans used their momentum from the 500 yard freestyle to then solidify their win with first and second place finishes in the 200 free relay.
"The GBN meet was a key meet for us, and it was one of our bigger meets in our schedule," MacDonald said.
The team is now focusing on ending their season with great swims, according to MacDonald. Additionally, Casey said that the team hopes to qualify relays for State at Sectionals.
"The way we're going to get there is [by] continuing to train really hard," Casey said. "MacDonald really knows what he's doing, and he's been coaching for so long that he just knows what we need to do."
The women's diving team, led by head coach Laura Duffy, is also working towards diving well at their end of the season meets, according to Duffy.
"I'm hoping to get one state qualifier," Duffy said. "My team is really young, so we are building [our progam]."
The team almost doubled in size from last season, going from five divers to nine, and Duffy believes this will ultimately help them. During their first meet against Deerfield High School, the team's goal was to go in and not fail any dives, according to Duffy.
"I always tell them their first goal is to do six dives without failing any," Duffy said. "And we had eight out of nine divers do that, so I think that is pretty amazing considering a lot of these girls just started [diving]."
According to Duffy, the team continues to progress and learn new dives and showcased some of the dives at the GBN meet.
"We had a lot of fun diving with Glenbrook North," Duffy said. "Alex DiMarco had a great showing against some good competition, scoring a lifetime best score of 217 points and taking first place."
The next time the women will compete is Sept. 30 against Niles West at home.  The Titan's also host thier invite, Titan Relays on Oct. 15.