South hires new head coaches for fall season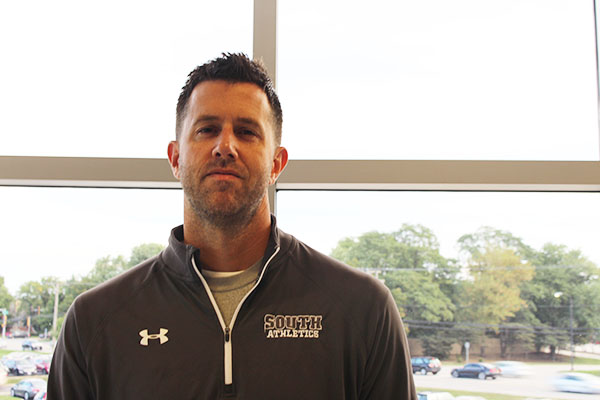 David Schoenwetter
Glenbrook South alum David Schoenwetter is following his father's footsteps as the new head football coach. Schoenwetter's dad, Bob Schoenwetter, was the head football coach at South for 35 years and coached Schoenwetter who played Quarterback. Before he became head coach, Schoenwetter was an assistant coach for 15 years.
"Coach Noll taught me so much about football and how to run a program," Schoenwetter said. "That [made me] decide [that until] he retired, I was going to be the absolute best assistant I could be […]." According to Schoenwetter, he has enjoyed being the head coach, but didn't realize how often he would be thinking about new coaching techniques and plays.
"It's been a thrill to be in charge and to have the chance to shape [the program] into my slightly different vision," Schoenwetter said.
Kelly Dorn
The women's volleyball team is hoping to go far this season under their new head coach Kelly Dorn. Dorn played and coached division one college volleyball at UIC and was the JV coach at New Trier for three years.
"I played every position [in high school and college], and I really feel like I know how to teach every position because I've had high level experience," Dorn said.
According to Dorn she was looking for a job that gave her an opportunity to coach and teach PE. [So when] a PE teacher and head volleyball coaching position opened up at GBS, Dorn thought it was the perfect fit.
"[At New Trier] I was able to get a look at our conference, the competition, and what level [we] need to be at in order to win," Dorn said. "I always thought of [South] as very good, [and] when I was at New Trier they were one of our biggest [competitors]."
Meghan Fastert
Meghan Fastert is the new head coach of women's cross country. Fastert was the assistant cross country coach last year and ran cross country in high school.
"I wouldn't have been able to get through high school without [my coaches]," Fastert said. "So I hope I make those same connections with the [team], where I can help them through a practice or a meet , but I can also help them with anything that is going on in their lives."
According to Fastert, being the assistant coach last year was a great opportunity to get to know the team, but being the head coach has let her get to know all the girls on a deeper level.
"Even at five in the morning they are still the same crazy group of girls that I love," Fastert said. "This has been one of the greatest opportunities I have ever had."