Men's golf wins Conference, looks to do well at State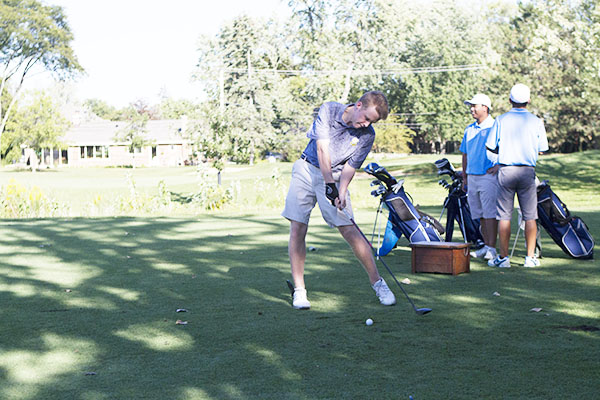 The 2016 men's golf team has high expectations coming into this year, according to senior Co-captain Charlie Nikitas. With the help of consistent play and strong leadership, the boys' goal of State is more reachable than ever especially because they have a record of 5-0 and won Conference, according to Nikitas.
According to head coach Steve Gale, a large part of the Titans' success has been the strong leadership of the upperclassmen.
"We have strong Co-captains in Seniors Charlie Nikitas and Kevin Paek," Gale said. "Those guys along with junior Jarett Brushal are leading the way."
Nikitas and Paek have been the key leaders on the team the past two seasons, according to Gale. Nikitas and Paek's leadership and experience on courses all over Illinois will benefit the overall success of the 2016 team, Gale added.
"Charlie and Kevin were among my leaders last year so there has been consistency this year," Gale said. "We did not go as far as we hoped for last year, and we hope to go farther into the State series this year."   
According to Paek, the Titans are hungry for a trip to State. The men believe that with strong leadership and consistent play, they can reach heights they have never reached before.
"Consistency has been a big factor," Paek said. "We've played pretty well in all of our matches and having good scores come out of our matches is always helpful [too]."
At Conference, Nikitas placed 1st (67 points), Brushal placed 2nd (72 points), Paek placed 3rd (76 points) and sophomore Jack Upperman tied for 4th (77). The Titans are not only setting their eyes on getting to the State tournament, but they want to compete and bring back a State championship, according to Nikitas.
"I felt like I came pretty close last year, but, as a senior, I really want to cap off my high school career with a State championship," Nikitas said.
Nikitas also recently signed his letter of intent to play college golf at Miami of Ohio. Nikitas adds that playing college golf was a goal of his since he was young.
"It's been a dream of mine since I was a little kid," Nikitas said. "Playing college golf was the goal ever since I picked up a golf club. Now that I have that under my belt, I'm really excited for the next four years."
The Titans defeated New Trier and Loyola, two of the best teams in the State. The team beat New Trier by a score of 147 strokes to 137 strokes. According to Nikitas, the victory was really important and crucial to the team.
"We were all extremely excited." Nikitas said. "Kevin and I especially just because it's our last year, and we had never beat New Trier in Conference before. I know Kevin and I played our hearts out, and we were just so psyched to get a win for the [team]."
According to Nikitas, the team can reach that goal of a State championship if they push themselves in practice and hit their stride at the right time.
"I feel like we just have to work really hard," Nikitas said. "I think it's about peaking at the right time. It doesn't matter how you're doing in the regular season, if we are peaking near the end of the season, during Regionals and Sectionals, then hopefully we can make a run for a State championship."
With the consistent play of Nikitas and Paek, the Titans believe that they can turn their State aspirations into a reality this year, according to Nikitas.