Women's track makes a run at the State finals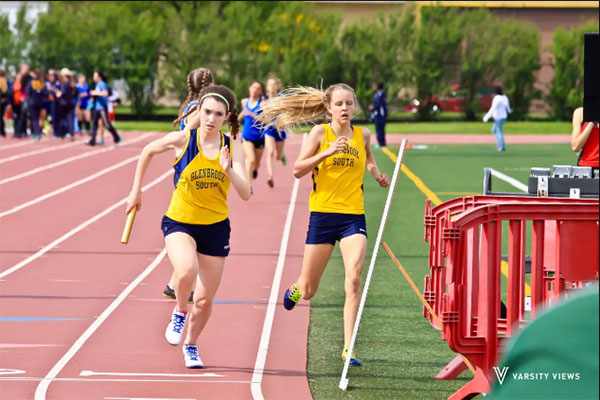 The Glenbrook South women's track team led by Head Coach Fred Kocian had a tremendous season, according to Kocian.
"For our indoor portion of the season, we took third place at Conference, but we won our John Davis relays, which was great," Kocian said.
According to Kocian, the team beat long time rivals, New Trier, for the second year in a row during their indoor season for hurdles. Additionally, sophomore runner Emily Noone took seventh during the indoor State meet.
Kocian also believes the team has done well so far for their outdoor season. The girls took 3rd at the Titan Invite and both the Varsity and Junior Varsity levels won the Niles North Invite. Katelyn Luckey, senior hurdles runner, agrees with Kocian in regards to their season meets.
"When I saw my friends running their events and really giving their all, I could totally tell people were willing to go the distance because they knew [track] was winding down," Luckey said.   
According to Luckey, the girls worked on accomplishing goals both as a team and individually this season. She felt this was really demonstrated at the Niles North meet.
"I was in a specific heat where I knew all the girls, and I knew how they ran." Luckey said. "So when the [race] began, I knew that I had to give it my all because [as a senior], when else was I going to do something like this."
Luckey took first in the hurdles at the Niles North meet. According to Luckey this was one of her main goals of the season because the Niles North meet is such an important meet for the Titans. In addition, senior Rose O'Grady also accomplished her goal for the season of getting a personal record.
"I wanted to get a [personal record] in either the half mile event that I do or the mile, and I did get a [personal record] in the mile, but I'm also hoping for another one," O'Grady said.
According to Kocian, the team has had many great placements throughout the season with many distance runners making personal records at the Palatine Distance night, where runners had to be invited to compete.
"Emily Noone was invited and Kaylie Pitterman ran her time of 11:11 in the 2 mile race and Amelia Papajohn almost ran a time that would qualify for state," Kocian said.
According to both Kocian and Luckey, the team hoped to have multiple runners qualify and advance onto State in Charelston, IL.
"For track it comes down to one meet," Kocian said. "[For] Sectionals, you want to do your best there so you can move onto state, […] and as the season progresses, the meets become more and more important leading up to Sectionals."
According to junior runner Amelia Papajohn, the Titans never made it past preliminaries, but had a great experience running as a team. The relay that qualified for state included runners Papajohn, Emily Noone, O'Grady and Lauren Hayes, according to Papajohn.
"Our 4 by 800 relay team qualified, and prelims were Friday, and finals were Saturday," Papajohn said. "Friday, we unfortunately didn't make it out of preliminaries, but we all ran our hardest and it was cool just getting to run down state at such a nice track. [Emily Noone] qualified for the 800 too, but sadly also didn't make it out of prelims. But we all had so much fun hanging out together. Just being there was a really cool experience."