Women's lacrosse looks to go far in post-season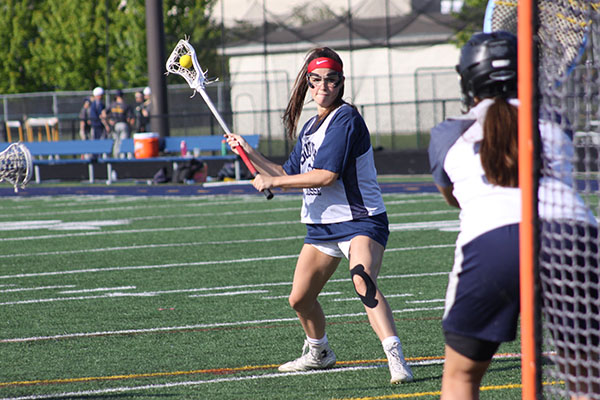 The women's lacrosse team has advanced through the first two rounds of the playoffs after beating Barrington (16-4) and Palatine (15-4).
The team currently has a record of 14-7. According to senior captain Sarah McDonagh, the game against Montini was an important win, with a close score of 11-10. The game went into overtime, and was a very uplifting win, according to McDonagh.
"[It was] a huge win for us because they had a lot of strong players, and we battled through the entire time and played really really well together," McDonagh said.
McDonagh also believes that a problem the team had been struggling with prior to the Montini game was trusting one another to catch the ball.
"Our team in the past has had an issue with trusting each other to catch the passes and [trusting] that our teammates are gonna be there for us," McDonagh said.
According to McDonagh, however, this is mostly due to a large portion of the team having graduated last year, so there are many new faces, including five freshmen, on the varsity team. Having trust in their teammates during the Montini game heavily contributed to the win.
McDonagh also believes the team played well on the defensive end of the field due to their new zone defense.
"We came out with a lot of stops on the defensive side, and we're playing a new defensive zone this year," McDonagh said. "We've been doing a really good job at getting to know [and] perfecting [the new defense] on that level."
Lesch credits the win in part to the players perserverance and that the seniors played especially well during overtime.
"[Montini] had a possession in overtime, but [we gained possession], executed and scored," Lesch said. "We really stepped up, [and] I was really proud of our seniors for their play in those final minutes."
Aditionally, the game against GBN was also a very important and competitive game, according to Lesch.
"There's always intensity with [playing GBN due to the North-South] rivalry, and GBN was really excited to play us this year because it was at their home field," Lesch said.
According to Lesch, it was clear that GBN went into the game focused and ready to play, and in return, GBS needed to be devoted as well.
"They moved their senior night off that game so there would be no distractions, so we knew they were really pumped for it," Lesch said. "[This] got us to take them a little more seriously and to come out really strong right off the first draw."
The Titan's play their third game in the playoff series on May 25 against  Maine South.
*The Oracle went to print on May 24.*