Men's swim & dive prepares for State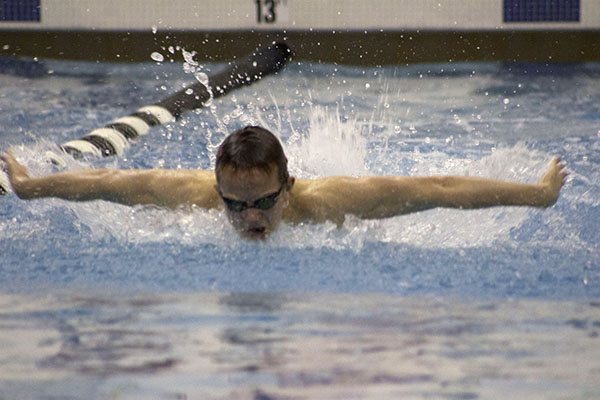 The men's swim and dive team is in the last month of their season and are looking forward to Conference, Sectionals and State, according to Head Coach Keith MacDonald.
The Titans have three invite wins and a record of 4-1 in dual meets. The Titans fell to CSL South rivals, New Trier, with a score of 80-106 on Jan. 15.
MacDonald was not pleased with the results of the New Trier Meet. According to MacDonald, the team may have been tired at the meet because of their difficult training leading up to the New Trier meet. However, MacDonald believes that should not be an excuse and the team should have stepped up to race.
"We swam very poorly against New Trier, and it was not indicative of how we have been training," MacDonald said. "We have been training really well, […] but we did not perform well against New Trier and that was disappointing because they are one of the top teams in the state and it was a good opportunity to race and challenge ourselves, [but] we were a bit flat at that meet."
The Titans were beating New Trier halfway through the meet, but MacDonald and senior captain Sam Salganik do not think the Titans could have won. MacDonald was not focused on a win or loss; he wanted the team to take advantage of racing at a competitive meet, according to MacDonald. Salganik attributes their inability to beat New Trier to the Trevians' depth.
"[New Trier's] team is twice the size of ours, so they have the extra depth," Salganik said. "Even though we could win an event and get six points, they could come in second, third and fourth and get eight points overall. Things like that is what led us to lose a lot of points."
The Titans beat Niles West 117-52, on Jan. 22. According to MacDonald, most of the swimmers were not swimming their main events. However, junior Sam Iida, state champion in the 500-yard freestyle, beat the Glenbrook South school record in the 100-yard breaststroke with a time of 57.95 seconds. The record was previously 58.09 seconds. It was held by Jon Salomon, a state champion in the 50-yard freestyle who graduated last year.
"It was a pretty big moment because I have never gone under a 58 in a regular meet," Iida said. "Before I went into [the race], I told [junior] Trevor [Utter] and [senior] Byron [Mandell], 'Have fun breaking my new record,' [because they are both breaststrokers]. There is also a swimmer from New Trier, Charlie Scheinfeld, and he is a fast [breaststroker] and I just wanted to show him there are other people out there."
On the diving side of the team, Diving Coach Laura Duffy calls this season really exciting as she has two seniors, Trevor Burke and Patrick Tener "on the [cusp]" to make the State meet.
According to Duffy, Tener has added dives with higher degrees of difficulty to his diving list to help him score higher. Burke's strength comes from his consistency and ability to perform the required dives from each category, according to Duffy.
"[There are] a lot of people returning that were State finalists last year," Duffy said. "We only lost a handful, so it is possible, which is what we are working for, but they would have to dive really, really well. It is all about who wakes up and shows up to dive that morning."
According to Duffy and Burke, the team needs to work on their entries and consistency in order to have a better chance at making state. According to Burke, the diving team is very deep. Burke attributes the divers' success to Duffy, who was inducted into the Illinois Diving Hall of Fame last year for coaching.
According to Duffy and MacDonald, diving and swimming points are combined to determine where the team will place at state. According to MacDonald, the team hopes to trophy again this year at State by placing in the top three, despite losing Salomon, a sprinter. MacDonald believes the team needs to improve on their sprinting and the front half of their races. MacDonald is also looking forward to the State relays.
"We have the capability of being one of the best in the state in the medley relay," MacDonald said. "The goal for the 400 free-relay is [to place] top six."
The Titans next home meet is their senior night against Maine South on Feb. 2.