Women's basketball holds winning record, 18-3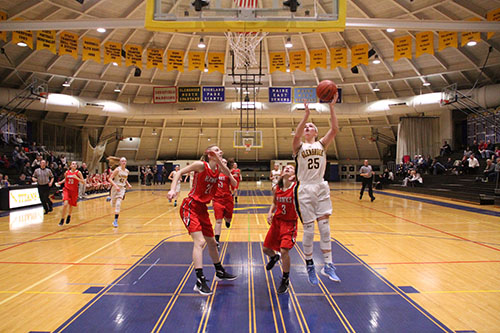 Only losing three games so far this season to New Trier, Evanston and Maine South, the women's basketball team leads with a record of 18-3, according to Head Coach Steve Weissenstein.
"Our toughest competitors are by far New Trier and Evanston," Weissenstein said. "We lost to both of those, [and] we also lost to Maine South. We're very competitive with both those teams, so they're really good games when we play them."
Compared to last season, there is a change in the type of players and their game, according to Weissenstein.
"Last year, I think we were a much more 'inside oriented team,'" Weissenstein said. "In other words, a lot of our baskets came in the paint. This year, I think we're more of a perimeter shooting team, and we have really good shooters. We haven't had people shoot over 40 percent from [the three-point line] in quite some time, and both Caitlin [Morrison] and Carie [Weinman] are shooting over 40 percent from the three."
The girls played the Evanston Tigers on Jan. 8 and were caught on the defensive side most of the game, losing with a score of 35-34. Weissenstein notes that overall it was a good game, but the beginning is what lead to a loss.
"I like the way we came back in the fourth quarter, [and] we played very well," Weissenstein said. "I'm very pleased with our defense. We held them to 34 points, but offensively, against a team like Evanston, we can't leave points on the floor; we missed a lot of lay-ups, [and] we missed a lot of free-throws, which came back up on us."
Similar to Weissenstein, Senior Captain Sarah McDonagh also acknowledges the difficult one-point loss against one of their toughest competitors.
"If we had cut the turnovers we had, we would've won," McDonagh said. "You could feel the frustration on our team because no one was really playing very well; we only scored 32 points, so that's always hard because we're not the type of team to only score 32 points."
McDonagh attributed their low score to the fear of strong and well rounded teams.
"When we play these big teams like Evanston, Maine South  and New Trier, we think, 'Oh my gosh it's New Trier,' and we don't play the way were supposed to play," McDonagh said.  "We don't play Glenbrook South basketball; we play their basketball, and I think that if we play our basketball, we'd beat any team in our conference."
Besides the three losses, the Titans started the season winning against Prospect on Dec. 12, with a score of 50-39.
"[After playing New Trier], I remember [Coach Weissenstein] telling us after the game, 'We have Maine South this upcoming Friday, and the one thing we can't do [is] let one loss turn into two,'" McDonagh said. "The next day we played Prospect, [and] that was probably the most satisfying win we've had."