Men's swimming starts off season with undefeated record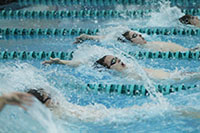 The men's swimming and diving team is confident in earning their fifth state trophy this year, despite the fact that they lost several state champions, according to head coach Keith MacDonald.
"We're a very similar [and] strong team," MacDonald said. "We lost a state champion in the sprint freestyle, so that affects our sprinting a little bit and that's a big loss. We lost John Salomon, who was a state champion in the fifty-free and then we also lost Aaron Ach who was one of the top divers in the state [ …] but overall, we're really strong."
According to MacDonald, the team placed first out of six teams in the Deerfield relays on Dec. 4.
"We broke a couple meet records which is always fun and it was the first time that [we swam in Deerfield's new pool] so they didn't have any pool records," MacDonald said. "Every time we dove in, it seemed like we set a pool record because we were winning a lot of races."
Furthermore, the men swam in the Niles West Invite and placed first out of six teams the day after Deerfield on Dec. 5.
"[The Niles West Invite] was not a great meet," MacDonald said. "We still won, but the competition wasn't that great and we didn't really perform all that great [either]."
Sam Iida, junior state champion, also acknowledges their performance and competition at the Niles West Invite.
"The invite was an easy win, but [we like] a higher competition level," Iida said. "We won by about eighty points, winning almost all events. [Our] relays did alright, but one got disqualified. Overall we could have done better, but we were all tired and pretty worn out from the week."
Besides their winning record so far this season, the Titans have to face their toughest competitors after winter break: New Trier.
"New trier is always very tough," MacDonald said. "We beat them at the state meet the last couple of years and that's quite an accomplishment because they're very talented. However, dual meet wise, they have more depth than us, so it's difficult for us to stay with them in a dual meet."
Senior captain Sam Salganik notes that even though the Titans lose to New Trier in dual meets, that ultimately what happens in the championship is what matters.
"I think this year [is] going to be a very close meet with New Trier," Salganik said. "We have a lot of great swimmers and by the time the meet [comes we're well] into our training, so it's always a close meet. We try not to focus too much on the dual meets against them and focus more on the championship meets in the end of the season. The past two years we have placed above them at state, so that's our goal this year again."
Similar to Salganik, senior captain Tommy Hagerty is optimistic that the team will go far this season in regards to their dual meets and  State.
"As a team, we hope to get our fifth state trophy in ten years, which is top three," Hagerty said.
The Titan's next meet is at Evanston High School on Jan. 1, according to MacDonald.
"We'll have the Evanston invitational which is almost like a mini state meet and that's right after winter break," MacDonald said. "It has a lot of the best teams in the state in it, so we're looking forward to doing well in that."