Titan pride is more than just dances and football games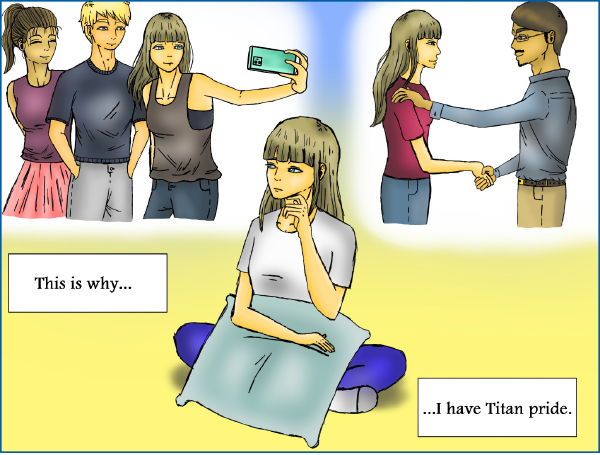 I always thought having school spirit meant that you were banging the buckets with Titan Nation at a football game, marching in the Homecoming parade and going to pep rallies and school dances. There is an undeniable pulsating energy of school spirit throughout the halls of South, but the truth is it can be found in everything you do as a Titan, even the little things. It's natural as a senior to reflect on the four years, and I realize now that I loved high school and I have strong Titan pride, but for the reasons that might not fit the classic teenage stereotype of "The best four years of your life."
One thing I will carry with me for the rest of my life that I found at South was a passion for learning. I am going into college with an undeclared major because I really don't know what I want to spend my life doing yet. But what I do know is that I want to spend my life learning in every way that I can.
My classes at South have shown me that this is just the beginning of my life-long education journey. I feel like I will forever be a student to the world, soaking up all that it has to offer. Despite all the challenges the Class of 2020 faced at South, we learned, and that is the main source of my Titan pride.
Before starting high school, I was told numerous times that I would probably lose some old friends as a result of meeting so many new people. There is some truth to this, as I have met so many beautiful friends as a result of South's diverse community. But my best friend from middle school is still my best friend now, and will probably be my best friend when I turn 100.
My best friend and I are two completely different people from freshman year and the road to get here was full of loops and turns. I now look back and find beauty in the ways that we grew and evolved alongside each other, only to nourish our understanding of ourselves within our friendship. South offered opportunities to make new friendships, and opportunities to strengthen old ones, and that is the reason for both my best friend and I to have titan pride.
I couldn't have gotten this far without the support from my parents. I am overwhelmed with gratitude when I think about the kind of home that my mom and dad built. For reference, my mom told me that when I go to college she's not only going to miss me, but she's going to miss the friends coming in and out for sleepovers and movie nights. My moral compass comes from them, and because of that, I now get to follow their one request: Go out into the world, and be a force for good.
There are so many adults at South that have helped me through both learning curves and life curves. I remember the teachers that might have a little more sympathy for a missing assignment or an in-class nap (after 3 hours of sleep the night before), and teachers that have pushed me to think about and question the world in unique ways. I am grateful that the resources at South connected me to a therapist who has taught me the strength in releasing emotional pressures. The sheer outreach of adults at South is reason for me to have Titan pride.
The memories that I will remember and cherish forever are the small moments: the late night drives with my old friends, hours being spent browsing grocery stores with my mom, and getting to school at 6:00 am to look at the planets for astronomy. The point is my four years probably won't inspire any stereotypical coming-of-age high school film. But, it has inspired me to take the lessons that I learned as a Titan along the road for the rest of my life.