Lady Gaga releases Joanne, exposes fresh musical style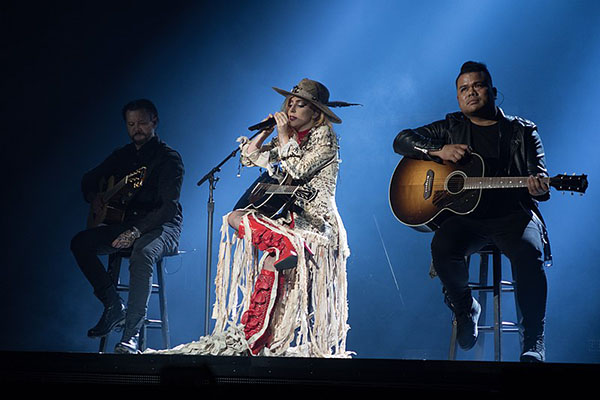 Ava Mazzei, asst. a&e editor
November 10, 2017
When I think of Lady Gaga, I think big: meat dress, auto-tune, sparkles and techno-pop. So naturally you can imagine my surprise when I put on the first track of Gaga's new album, Joanne. Despite Gaga's shift from pop to alternative rock, every song made its way to my "Top 25 Most Played" playlist.
The pink hat she wears on Joanne's album cover symbolizes not just her new fashion style, but a new direction in her music as well.
Joanne introduces us to Stefani Joanne Angelina Germanotta, the woman under the wig. This woman has proven to make deeper connections and inspire millions of listeners worldwide to listen to their hearts when it comes to change. It is heartening how she connects with her fans without having to put up a front. Her fans accept her for what she is because she practices what she preaches, and in this case, that change is natural throughout the course of life. If she did not change, she would be lying – not just to herself – but to her fans as well. 
This album unmasks some of her most personal thoughts and experiences. I never knew Gaga was so complex! The raw workings of her life fly out from each song like intricate butterflies expelling from a cocoon. Whenever I listen to the album, each song flutters around in my head with a multitude of colors, each representing a shift in Gaga's life.
My favorite track is "Come to Mama". It stands out as both a meaningful and unique composition. The song spreads the message of loving one another and keeps an old concept fresh by using jazz to present it. The harmony of the background singers meets with a catchy rhythm for a foot-tap worthy tune. The swing to the song rejuvenates the beats found from this point on in the cue.
In contrast with "Come to Mama" are the songs "Dancing in Circles" and "Perfect Illusion" both of which bring her funky style full circle with her past music. The incorporation of these more vibrant tracks authenticized this album for me because the old Gaga is still present, despite the development of her new musical identity. I'll be following the woman under the wig closely after this, to say the least.