First generation students work to make parents proud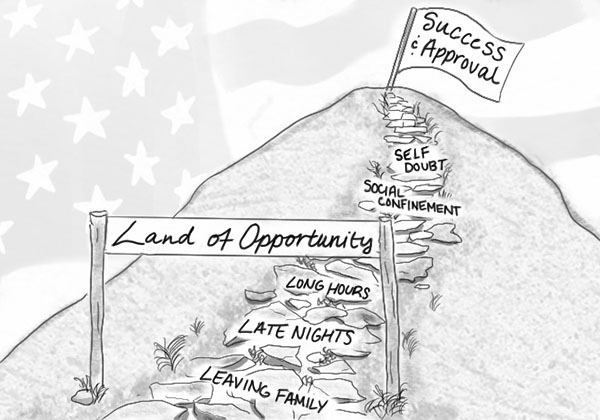 For most South alumni, the word "high school" means nothing more than four years of homework and tests with the occasional friend get-together on the weekends. Their high school memories capture the essence of a classic American teen film, where football games and school dances dominate the scene. For the two of us, however, high school means more than just "having fun;" it means taking advantage of the sacrifices our parents endured to provide us with a better life beyond high school. Given their financial state and immigratory status from southeastern Europe, high school was the highest level of education our parents could pursue, but this didn't keep them from reaching their true potential in the states.
According to the Association of American Colleges & Universities, "The chance of an immigrant with less than a high school diploma becoming a citizen was less than 31 percent in 2000—down from a 45 percent chance in 1970." Our parents were four out of the millions of lives affected by this statistic as they came to the "Land of Opportunities" in the early 2000s. Their hard beginnings were able to not only build their work ethic, but also to develop a passion for educating their young children.
Although our parents had restricted educational opportunities, the importance of school has consistently been reiterated in our lives. A day didn't pass where a book wasn't within the clutch of our hands, or our kitchen tables weren't covered with addition and subtraction cards; we were taught to enrich ourselves. Although one might find these activities "boring," it has instilled a strong work ethic within us throughout our childhood.
We began to strive for good grades not just to be "satisfied," but to ultimately make our parents proud. Many students may take an "A" on a difficult exam as a moment of temporary joy and relief, or they might not recognize it as significant at all. For the two of us, however, an "A" would symbolize a sign of confidence, encouraging us to work even harder to achieve the same. Our parents dedicated much of their early adulthood to bringing us a life of ease and comfort in America, and we have been left with the task of taking advantage of the opportunities they've provided.
Now, we aren't here to reject the fun aspects of high school. It's crucial that students spend some time with friends to take a break from their rigorous school schedules, but it's even more important for them to find a balance between the two. As first generation kids, we both strive to not only make the most of the opportunities our parents have given us, but to also expand our potential to succeed in the future.
Throughout life, society emphasizes making yourself proud first and worrying about making others happy and satisfied later. Although this is a valid opinion, as children of parents who did not have resources growing up, we openly wish to make our parents proud first and foremost. After all the blood, sweat and tears they have faced, the least we can do is make them think that their journey was all worth it in the end.