BROCKHAMPTON's experimental style makes Iridescence a good listen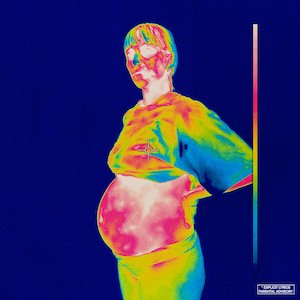 Ned Wawrzyn, Staff Reporter
November 12, 2018
Brockhampton is a rap collective that blew up in popularity in 2017 with their Saturation album trilogy. Despite the large amount of material Brockhampton released in 2017, all three of these albums were quite good. Brockhampton is not full of super technically skilled rappers, but they made up for it with their overall chemistry and some really catchy hooks. Their production was also consistently strong and was not afraid to be experimental, which was especially evident on Saturation III. The time leading up to the making of Iridescence was full of controversy. This was because one of their most prominent members Ameer Vann was kicked out for sexual assault. Iridescence is a much different direction for a group going through a lot of turmoil.
Iridescence is way more experimental than the already pretty experimental Saturation III. Saturation III never comes close to the wild stuff on Iridescence. For example, "District" feels like a sound collage with very prominent squelching synths. This song really works despite it being devoid of any kind of pop rap structure found in their previous albums.
My favorite song on Iridescence is "J'ouvert." The beat is really effective with the bass rumbling underneath and lots of other melodies thrown on top. Joba's verse on the song is especially captivating. He gets progressively more angry and loud as he goes deeper into his verse. This genuine angry about being misunderstood during childhood  makes this song one of my favorites on the album.
    One of Iridescence's best songs is "Tonya." On "Tonya" Kevin Abstract raps, "I'll trade fame any day For a quiet Texas place and a barbecue plate." It was really revealing to hear that they are already drained from the small bit of fame they have received. It really shows that Brockhampton is a group that is invested in the artistic process. Instead of making art just to get fame like lots of musicians always have.
    However, I am not that big of a fan of the two songs sandwiched in between "Tonya." "San Marcos" is not really covering new territory for the group. It's too similar to all the emotional guitar ballads they typically would put at the end of their albums. The closer "Fabric" has a really repetitive outro and nothing really going for it. I would have much preferred if "Tonya" closed the album seeing that it make sense as a closer and is a really strong song.
    While I may think quite a few songs on here are great, the album drags a little bit. The sequencing from song to song is weak. This has a lot to do with there being a lot of very short average songs that disrupt the transition to more interesting songs.  "Thug Life", "Something about Him", and "Vivid" feel like half-baked ideas under this more experimental style.These songs should have been more developed or cut entirely. The album is not that long running at 50 minutes but feels so much longer.
   Iridescence is very good but not great. The album has some of their best individual songs, but the album as a whole could have cut some filler and it would have been a much more enjoyable listen. I think the production on this album is definitely the biggest selling point. I would love if Brockhampton kept using this style of production. I give this album a 7/10 star rating.