Environmental awareness promotes new way of life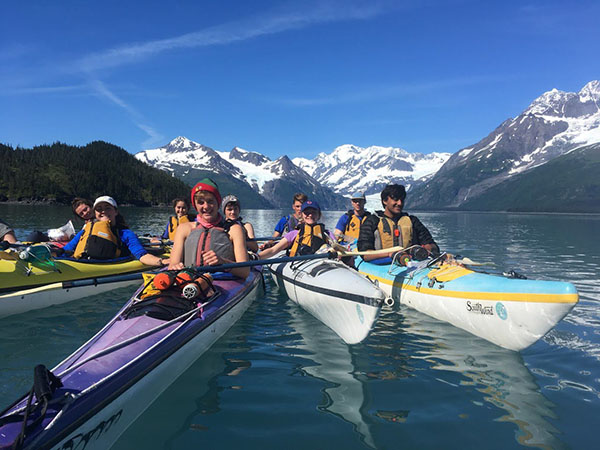 All my life I have lived the same routine. I've grown up in the same Glenview culture, surrounded by the Glenview "bubble." I use that word, "bubble" not in a negative way, but with a more bittersweet connotation. I had been, as I am now, incredibly grateful for the life I had been brought up in and all of the privileges it has come with, but at the same time, I had a curiosity to explore a different type of living. One in which I could find peace in being a little less environmentally impactful.
In light of these thoughts, I decided to put myself in a situation that would satisfy that interest in
adventure. I signed up for a wilderness trip in which I would live in the backcountry of Alaska for two weeks with ten other people I'd never met before. During this time, I experienced the humbling scenery of Denali State Park and the Prince William Sound.
I took home the thought of how little I physically impacted the Earth, but rather how largely the physical Earth impacted me. I left nothing but footprints and took nothing but photos and an incredible feeling of respect for this planet we so selfishly call "our" home.
It was easy to recognize the beauty of natural Earth when I was surrounded by the organic colossal curves, but realizing that humans are a giant cause of what destroys that natural beauty is what upset me. I've lived next to the big city my whole life, so sitting on top of a mountain and seeing the pristine land untouched by its visitors made me feel so minuscule, content, and insignificant.
By an untouched land, I mean we licked our bowls clean every night instead of washing them in lakes, we ate our apple cores instead of leaving them on the ground for another creature to unhealthily feast on, and we tried our hardest not to walk off the trails, as those areas were not made for our human footprints. We did everything we could to leave no trace; the opposite of what people around the world do every day.
Just like most people, I always thought of the world as "our" home. Unfortunately, it is because we are selfishly taught to think this way from the moment we enter. We aren't sure what came before us, and we don't know what might come after us, which makes humans only mere visitors, passing through and destroying this world like rude houseguests. That is why it's our job to do less stomping, and more tip toeing on the world that has so selflessly let us experience its magic.