Political voice available for those who cannot vote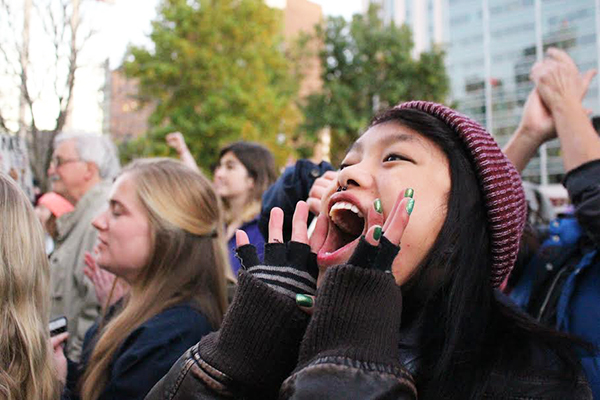 With each passing day, it seems like our country's divisions grow deeper and deeper. Nov. 8 left many of us with tears of joy or fear, screams of victory or protest, words of calm or dispute. For better or for worse, those of us under the age of 18 and others who can't vote (including undocumented immigrants, people with disabilities and people without I.D.s in some states) often feel like the policies that affect us are out of our control. This powerlessness can heighten the emotions we are left with after an election.
But this feeling of helplessness isn't entirely justified. After all, each and every one of us has the ability to speak out. We have been gifted with platforms like Twitter and Facebook. Which, although they may not be the strongest methods of communication, still allow us to interact with those who can vote.
With that in mind, 140 characters will not change the results of an election- it may not even change a single vote. Social media is such a powerful tool, but it cannot be the sole method we rely on to spread our voices. We are not too young to attend rallies, to protest, to intern for campaigns or to participate in conversation with those around us.
Whether you were a Trump, Clinton, Johnson or Stein supporter, your voice cannot end here. There are approximately 75 million people under the age of 18 in the United States, and millions more that are unable to vote for other reasons. The votes of our parents, siblings, cousins, neighbors and teachers affect every single one of us.
Do not let your life be taken into the hands of others. Instead, claim your power to make a difference. Claim your democratic rights. Claim the voice you rightfully have and tell the world what the youth of this country demands of those in power.
To those unhappy with the 2016 election results: keep fighting. Fight for your freedoms, for your passions, for your life. Don't let unwanted results take away your hope, because this country was built on the basis of a fight for progress.
You may feel that the democratic process has failed you, but it has proved to allow the impossible to become possible. If you are fearful of the effects of any civil servant, you must vocalize your fear, your disagreements, your wishes. You cannot let your fight take a two or four-year hibernation when the opportunity to continue working toward progress awaits you.
We cannot forget that this person will be our president; it's a fact that is now essentially out of our control. We can no longer fight against (or, alternately, for) his candidacy, because he is not a candidate. He will be taking office in January, barring a far-fetched overturn due to a recount or review.
We must now use our voices to inform, oppose or support policy. We must step away from the big picture, for now, and focus on the changes you can help make within these next few years.
The best place to start is your community. Communicate with your representatives in any way you can. Glenview falls in Illinois' ninth and tenth districts, so we are currently represented by Congresswoman Jan Schakowsky and Congressman Bob Dold (soon to be Brad Schneider), respectively. Calling their offices puts you into direct contact with those who have the influence to make change.
More often than not, change begins on a small-scale. Do not underestimate the power of your neighbors, your schools and your representatives.
So unite. Unite with voices like yours, voices that want to lessen any predicted effects which you oppose. Do not stop conversation; do not stop yelling; do not stop speaking; do not stop protesting; do not stop supporting; do not stop listening.
There is a voice much more powerful than that of the president: the voice of the people. When we unite our voices, we become impossible to ignore.
The most monumental changes are most often direct results of people speaking out and advocating for their beliefs. How can you expect others to fight for progress if you aren't willing to do the same?
We cannot give up on closing the divisions that haunt the United States. We cannot give up just because what many of us wanted didn't happen. We cannot give up just because we didn't get to fill out a ballot in November.
Many of us want change. Don't let the responsibility fall to others. Take part in a government that was made to serve us- all of us- and force change to happen.