A Moon Shaped Pool astounds listeners, holds up to past successes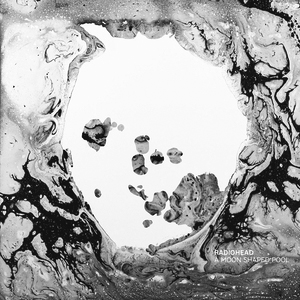 Sasha Vassilyeva, co-opinions editor
May 27, 2016
For nearly five years, Radiohead has stayed on hiatus with no singles or albums released since 2011 and virtually no activity since the King of Limbs tour in 2012. However, their ninth studio album, A Moon Shaped Pool, which was released on May 8, met all my expectations and more. With Thom Yorke's vocals and Jonny Greenwood's orchestral score, this album moves beyond the typical Radiohead sound and into a new era of contemporary acoustics and political antagonism.     
What drew me into this album was the single "Burn the Witch," which was released five days prior to the album. Greenwood's modern string arrangements and Yorke's powerful lyrics alongside a stop-motion animation video deliver a startling, dark political statement which moves past the typical anti-society cliches seen in a lot of music. Lyrics like "This is a low flying panic attack" fit many scenarios from the presidential race to who should be allowed to use which bathroom and bring to light the simpler truths of our society.
The deviation from their previous electronic vibe to a more gentle, acoustic one really intrigued me. Though electronics haven't been entirely abandoned, the use of piano, acoustic guitar and strings in songs such as "Desert Island Dark" and "Glass Eyes" created an overall relaxing atmosphere and added a sort of elegance to Yorke's words.
In this album Greenwood also introduced a technique known as col legno battuto, Italian for "hit with the wood," in which players strike their strings with the wooden part of their bow rather than bowing them, producing a percussion sound. This technique is primarily seen in "Burn the Witch" and is another quality that has made this song a personal favorite. Just as well, other songs such as "The Numbers" didn't fail to impress with its own incredible string section and use of percussion and acoustic guitar to create a jazzy aura.
The album was released less than a year after Yorke split with his wife, but by no means does this make it a "break up" album; however, songs such as "Daydreaming" appear to connect to themes of loss and remorse. At the end of the song, Yorke's voice is played backwards saying "Half my life," probably referring to the 47 year-old's 23 year marriage in one way or another.
Other songs such as "Identikit" also seem to illustrate underlying themes of heartbreak as Yorke sings "I see you messing me around" and "Broken hearts make it rain." However, saying this is their "break up" album takes it too far. After all, this is Radiohead, not Taylor Swift.
The album ends with "True Love Waits,"which has been around since circa 1995. Now recreated and reduced to just Yorke and a piano, a combination that comes close to perfection, this version of the song brings a new meaning to its words.
Never have I purchased a full album off iTunes until I heard A Moon Shaped Pool. It's soothing instrumentals and eerie motifs instilled a newfound admiration for Radiohead. After staying silent for so long, this album was worth the wait.