Shadowhunters disappoints with cliché development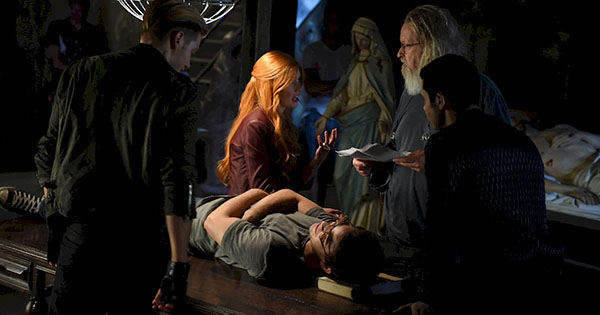 As of late, it almost seems like every TV show, movie or book has followed the same formula: a random teenager is living a 'normal' life, then something goes wrong and they are suddenly thrown into a fantasy world. This world usually includes a villain trying to take over the world, some sidekicks and a love triangle.
The new TV show, Shadowhunters: The Mortal Instruments, doesn't stray from this mold. Based on the The Mortal Instruments book series by Cassandra Clare, the series was adapted into a TV show which premiered this past January on the TV network Freeform, previously known as ABC Family.
The storyline begins with Clary Fray (Katherine McNamara) celebrating her eighteenth birthday. Clary and her best friend Simon (Alberto Rosende), who is also in love with her, go to an all-age night club. It is there that Clary first encounters Jace Wayland (Dominic Sherwood), Alec Lightwood (Matthew Daddario) and Isabel Lightwood (Emeraude Toubia). With an appearance unlike anything she has ever seen before, Clary is drawn to the group and follows them as they are on a mission to kill a demon, yet she is unaware of what they are.
After witnessing the killing of the demon, Clary flees from the club shocked. The next day,  Jace somehow manages to find Clary and tries to convince her to come with him to the Institute because Clary is not human. Shocker. However, they are interrupted when Clary receives a frantic call from her mother. Clary races home to find a destroyed home and her mother missing. After fainting, Jace comes to the rescue and brings her back to the Institute.
As a fan anticipating this series premier for a while, when Jan. 12 arrived, I was disappointed to say the least. Now that the show is about halfway through its thirteen episode season, I can finally say why the show didn't achieve all the hype it was given: Clary and Jace weren't cast right, and the show is going through what I call "first season blues."
I think Sherwood is great…just not as great as Jace. He is a young actor with tons of potential in his career, but he isn't Jace. Jace needs to be cold and masculine, but at the same time he also needs to be vulnerable and give the audience moments in which we see clarity and emotion in him.  For God's sake, Jace saw his dad murdered when he was just a kid, he needs more edge than Sherwood is giving him. Clary is suppose to change him, but Sherwood's interpretation makes it as though nothing really needs to be changed.
Part of the problem with Sherwood's performance is due to the inadequate casting of Clary. The two lack the essential chemistry needed and thus their flirting comes off as fake. As the lead of this show, I expected McNamara to be the strongest actor and embody the character Clary. Yet she overplays her emotions. Maybe it's because the only line she ever has is "I'll do anything to save my mother." I mean, wouldn't any of us do anything to save a loved one?
The thing is I expected more from this show due to the previous screen time it has seen. In 2013 it was adapted into a movie titled The Mortal Instrument: City of Bones. A second movie was being planned, but was cancelled due to the low success the first movie had in theaters and the idea of a TV show was suggested.
This movie, though, was everything I imagined the Shadowhunter world to be and more. Jace was played perfectly by Jamie Campbell Bower, who shared amazing chemistry with Clary who was portrayed by Lily Collins. Though it does have its flaws, it never got a second movie to try and improve them.
The TV show does have some great traits though. The supporting cast of Simon, Isabel and Alec, as well as the relationship known to fans as Malec (Alec Lightwood and Magnus Bane, played by Harry Shum Jr.) both carry this show. From cast interviews and behind-the-scenes footage, it is obvious that this cast is close and actually like each other. So it makes sense that the best scenes tend to be when Clary, Jace, Alec, Simon and Isabel are together, rather than when they are acting alone or separate from the group.
For Freeform as a network trying to reestablish themselves, taking on this show was a big leap. For that, I applaud them for stepping outside shows like Pretty Little Liars, The Fosters and Baby Daddy which made ABC Family a well-watched network. Along with different casting decisions, the graphics and creativity need to be improved for Shadowhunters to be truly successful. This isn't like any of the other shows they have produced, so if it gets renewed, I suggest this show gets some much deserved tender love and care.