Model UN hosts largest conference in club history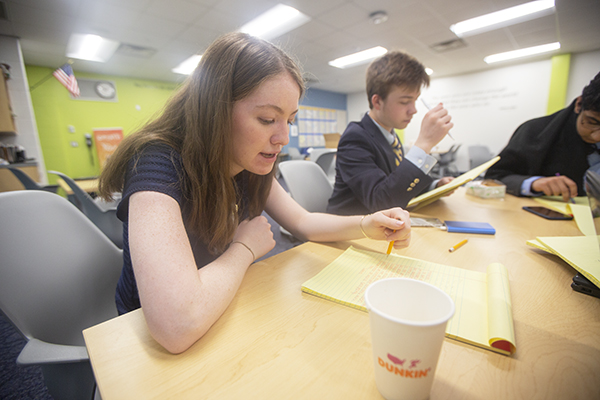 On April 6, Glenbrook South's Model United Nations (MUN) team hosted its fifth GBSMUN conference, which brought over 500 students from all over Chicago, as well as Brad Schneider, the U.S. representative for Illinois' 10th Congressional District, as the keynote speaker. The conference marks a significant step for South, as this is the first GBSMUN conference hosted in two years, according to senior Maddy McGrath, MUN co-president.
Both McGrath and Sophomore Representative Elena Pauker were looking forward to hearing Brad Schneider talk about his experience as a representative.
"He is a very good speaker and has a lot of very interesting stories to talk about," Pauker said. "It's cool to see people in government coming to a conference like ours."
  A new year gave the school and MUN an opportunity for important changes, Pauker says. One of the changes was the addition of a sophomore representative on the student board, which Pauker serves as this year, along with sophomore Noah Walch. Another addition was the new faculty sponsor, Jesse Sisler, special education teacher, Pauker says.
"Now there is a lot more communication between the board, the club members and the advisors," Pauker said. "There has been a lot more supervision of the club, so it has definitely run a lot smoother."
New policies were brought in with Sisler, Pauker says.  He serves as co-advisor with Terry Jozwik, the other MUN co-advisor. After the events of last year, the team has emerged stronger and come together, Sisler says. Missing last year's conference pushed them to deliver an even stronger one this year. It created excitement at other schools as well; at competitions other teams would ask about the new conference, Sisler says.
"I hope I've…fostered a culture of mutual respect where [the students] can trust me and I trust them," Sisler said. "My goal this year was to create a positive environment where [the students] want to come back next year."
McGrath says the planning for the conference started in June, taking about 10 months to coordinate with other schools and schedule a keynote speaker for the conference. The team decided what topics would be covered and what committees there would be, McGrath says.
Later on, MUN worked on assigning countries and committees to the various students attending. As the conference began to take shape, the smaller details were also figured out, ranging from determining room assignments to ordering gavels, placards, writing pads and folders, McGrath says.
"There's a lot of logistic information to handle," McGrath said. "One last strong push we have to make is networking the crisis staff and volunteers and our keynote speaker."
Before the conference began, documents called background guides were posted on the MUN website for other schools to use. They detailed the topics discussed at the conference and served as the first impression for GBS. These background documents are important to South's reputation, McGrath says.
"We emphasize quality at Glenbrook South because that is the first impression for our conference," McGrath said. "The average background guide is anywhere from 20 to 25 pages and that encompasses two topics with very specific details."
Last year's conference was canceled as MUN had been temporarily shut down, which had both negative and positive effects, McGrath says. Many members missed an opportunity to work on their skills and gain experience, McGrath elaborates. However, both the school and MUN realized that there were issues on the team that needed to be fixed, in light of last year's events. MUN also worked to improve communication throughout the team and to remind the members of the fact that they represent South, and they need to be respectful and positive, Pauker says.
The work put into the conference helped make it a success, according to Delaney Gallagher, MUN co-president. With the participation all of the members, the conference ran smoothly, Gallagher says. Of the approximate 19 schools that went to the conference, Glenbrook South students won the "Best Delegate" and "Glenbrook Honor" awards. Even for those who did not win, they still put a lot effort into the conference and got a lot out of it, according to Gallagher.
"A lot of people who did not win awards at other conferences showed up and gave a 110% in everything that they did," Gallagher said.  "That means more to me than anything they could win at any other conference. They were doing everything they could to make sure the conference ran well, and I was really proud of them for that."